Culture news
St. Petersburg opens at Carnegie
10.05.2005 13:37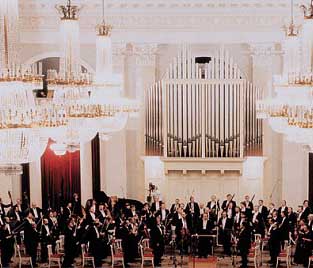 There are several different ways to play a late romantic piano concerto with a lot of very fast passages. There is the Titanic Virtuoso Technique, in which the hands hurtle from one fortissimo goalpost to the next, chewing up the little in-between notes and spraying them out into the hall in exhilarating bursts of violence. It all sounds very impressive and very hard to do.
Then there is the Pondering Pianist Method, in which the performer, having measured the specific gravity of each tiny tone and analyzed its role in the architectural span of the piece, then rattles them all off at industrial speed and with digital precision.
Third (but not finally -- this is not an exhaustive list) there is the Bronfman Approach, named for the physically pudgy but musically lissome pianist who opened Carnegie Hall's season Thursday with Rachmaninoff's Third Piano Concerto.
"Rach 3," as the non-music-geek public briefly came to know it some years ago thanks to the 1996 movie "Shine," is a mettle-proving piece that divides the poets from the practice machines. Yefim Bronfman is a poet, and unlike either his Titanic or Pondering colleagues, he was also born with a sense of ease with speed.
In Bronfman's hands, Rachmaninoff's quick tempos -- all those thundering cascades of pianism lying against the orchestra's purple majesty -- became neither a goal nor an obstacle but simply a natural form of rhetoric. He played without brazenness or bloat. He slid into the thick, bubbling tub of music without ever letting go of its meaning. Rachmaninoff might have been startled to hear such lyric clarity in his own score.
The first concert of the season at Carnegie Hall has its institutional imperatives: Coddle the wealthy; give them a chance to strut and encourage them to write a check. These occasions are so comfortingly predictable that they acquire the function almost like a holiday religious service. Wars may wax and floods may wane, but it's time to hear Tchaikovsky's Fifth again, time without end, amen.
Bronfman was joined by the St. Petersburg Philharmonic Orchestra and its longtime artistic director Yuri Temirkanov, who has helped Russia cling to the one Communist-era value worth preserving: veneration for classical music. In the second half of the program, he demonstrated how this could be achieved, with a performance of Tchaikovsky's Fifth Symphony that was both urgent and massive, like the tectonic shudder of a passing train.
The orchestra itself possesses none of the personality of its great competitors: the weightlessness of Cleveland, the galvanic energy of Berlin, even the sheer scrappy grit of its St. Petersburg rival, the Kirov Orchestra. But Temirkanov shares with Bronfman an unforced sense of lyricism, of the way a phrase should arc and dip and how the velvety clarinet utterances of the first bars evolve into a tread of clanging brass.
News source: newsday.com


Print this news
---
Culture news archive for 05 October' 2005.
Culture news archive for October' 2005.
Culture news archive for 2005 year.