Culture news
How to be … A Magazine editor
10.27.2005 16:34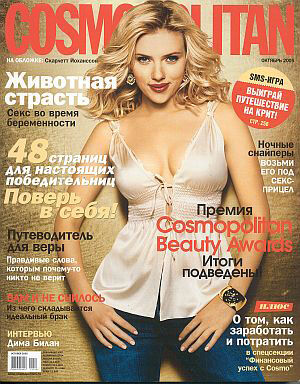 Glamour, nightly parties and wild creativity — that's the stereotypical image of the magazine industry that attracts many a young pen to glossy pages, but does the reality live up to it? Natalya Dudi, chief editor of Cosmopolitan-Petersburg, tells all.
When Dudi began her magazine career at Cosmopolitan-Petersburg four years ago she already had many years experience of working in radio, broadcasting on the popular station Europa Plus.
Despite familiarity with mass audiences, one thing about editorship she says she learned very quickly: "You have to work hard!"
As the editor-in-chief of the St. Petersburg edition of Cosmopolitan, the No. 1 selling magazine for women in Russia, Dudi says her job requires more than being professionally glamorous.
"It's not just about being the face of the company. Apart from generating ideas, as a chief editor you have to know all the technological processes of a magazine and be a good organizer, since you are organizing everyone — from photographers to writers," she said.
Networking
Being able to meet people and connect easily is also a vital editorial skill. Dudi says she managed to reach her present position precisely because she happened to be at the right place with the right people.
"The publishing house knew me already, since I was a contributor to the magazine at the time. I had also worked with the publishers while employed as a press-attache at a radio station," Dudi said.
Being familiar with the magazine, knowing the city, having contacts and an idea of the publishing market also contributed to getting the job at Cosmopolitan, Dudi adds.
The right format
Sticking to a certain way of writing, to a style and particular topics, in other words — adapting to a "format," is of paramount importance if one is to succeed in the magazine industry. "You have to play by the market rules and you'd better love it," Dudi says.
For young writers, the Cosmopolitan editor suggests finding a publication that directly suits the person's interests. This can minimize the feeling that a writer is "constrained" to writing within a particular framework.
"When I came to work at Cosmopolitan, straight away I was given an explanation of our format. The company regards its style as a law by which to abide," Dudi said.
"And no matter how beautiful, talented or great [an article] is, it just won't be published, unless it fits with the format," she said.
The rules of the industry are certainly strict, as perhaps for most jobs in media, as well as other professions.
"But, once you've found your vocation, you are the happiest person in the world," Dudi said.
News source: spb.ru


Print this news
---
Culture news archive for 27 October' 2005.
Culture news archive for October' 2005.
Culture news archive for 2005 year.