Culture news
Global view
04.07.2006 12:41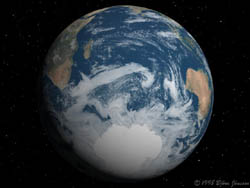 An outdoor exhibition, "Geography," running through May 3, on the wall of the Twelve Collegia Building and at the winter garden gallery of the St. Petersburg State University chemistry faculty presents paintings by Leonid Yatsenko.
The show is running in association with the Youth Summit 2006: Forming Global Responsibility, an event held this weekend ahead of the G8 heads of government summit that takes place in St. Petersburg in the beginning of July.
Among the pictures on display are laminated replicas of Yatsenko's World Maps series of paintings. Yatsenko is an icon painter who combines icons and church painting with the creation of artisticly rendered maps.
As for Yatsenko, everybody's cognition is determined by the geographical landscapes of the countries they live in. "Being confident of world unity and continuity, I assumed that if you look at a country's geographical outlines, the territory occupied by the people of one disposition, culture and myth, it would be possible to see a collective image corresponding to the very essence of that people," Yatsenko said.
The exhibition opens with a painting of Pangea, the name given to the the supercontinent that consequently broke apart and formed today's continents. Within its outline Yatsenko depicts Pangea as a girl.
The different images of humans and animals correspond with each other and combine in a world map where "not the political but the general world mental image is personified," Yatsenko said.
In the variety of the countries despicted there is the familiar Italian boot, the African continent painted as a skull with a diamond tooth indicating a diamond-field, an elephant's head for the Indian subcontinent, the British Isles shown as an old lady in a red dress and Iraq painted as the Earth's heart.
Apart from the world maps which Yatsenko will later to combine into one geographical atlas or a calendar, he has started working on a series of city maps with a picture of a tired soldier symbolizing St. Petersburg. Yatsenko said that he wants to create maps of Moscow, New York, London and Paris.
Although Yatsenko's paintings have a global theme, he said that he belongs neither to the globalisation nor the anti-globalisation movement.
"I tried to show in my paintings that the mosaic of the world can consist of totally different parts but, be integral as a whole," he said.
By Yelena Andreyeva
Special to St. Petersburg Times
News source: times.spb.ru


Print this news
---
Culture news archive for 07 April' 2006.
Culture news archive for April' 2006.
Culture news archive for 2006 year.