Culture news
Russians Cool On Visiting Petersburg
06.26.2006 14:58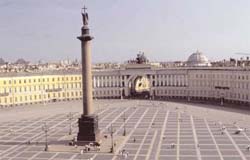 By Evgenia Ivanova
Staff Writer
Despite St. Petersburg's image as Russia's cultural capital, the majority of Russians said they had not paid the city a single visit over the past decade, according to a recent poll.
At least 56 percent of Russians taking part in the poll, conducted earlier this month by the All-Russia Public Opinion Research Center, have not traveled to St. Petersburg for at least 10 years, Interfax reported Tuesday.
Unsurprisingly, the proportion of Russians that have not visited the city in that period is significantly lower in the neighboring regions of Central and North-Western Russia. In these regions, only 28 percent of respondents said they had not been either to St. Petersburg or Moscow over the period.
However, in the rest of Russia, the results of the poll were significantly different. Only one fifth of the population in Russia's Far East and Siberia saw the northern capital in the last decade.
Inhabitants of the Southern Russia, Ural and Volga regions don't seem to be in a hurry to travel to the Northern capital or, in fact, to any sort of capital. Up to 73 percent of the respondents answered negatively when asked whether they traveled to St. Petersburg or Moscow within the past ten years, Interfax reported.
The North-Western branch of Russia's Council for Tourism said they were surprised by the findings. According to their data, Russians have started to travel more within their own country.
"I am not sure how unbiased such statistics are. Although St. Petersburg in 2005 saw a fall in tourist numbers overall, many tour operators have noted the growth of internal tourism," said Tatyana Demeneva, the deputy head of the council in the North-West branch in a telephone interview on Thursday.
"Russians want to visit the foreign counties they could not even dream about in the past, and at the same time, their interest in the heritage of their own country is growing," said the council's website.
But the views of many in the industry are not so optimistic. Experts note that the cost of traveling as a visitor to St. Petersburg is continuing to grow. The city today is much more expensive than many destinations in Europe, with some of its hospitality services still lagging behind in quality and availability in comparison with those offered in the West.
"Only very rich people can travel to St. Petersburg these days. And this is a very dangerous trend. Russian children will know Rome, Paris and Prague, but they might stop traveling to Petersburg soon," said Igor Mazulov, the general director of St. Petersburg-based Petrotour Service.
"And we already see this happening. For people in Kaliningrad [the Russian enclave between Poland and Lithuania] it's much cheaper to visit European capitals than St. Petersburg or Moscow," Mazulov said.
News source: times.spb.ru


Print this news
---
Culture news archive for 26 June' 2006.
Culture news archive for June' 2006.
Culture news archive for 2006 year.