Culture news
Slavic abundance
01.15.2007 13:01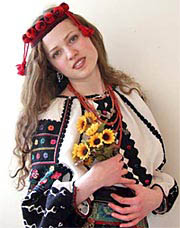 By Angelina Davydova
Special to The St. Petersburg Times
Khutor Vodograi, meaning Village Waterfall in Ukrainian, is a new restaurant recently opened on Karavannaya, right next to the trendy hang-out Korova. As soon as you enter the large well-lit room, you are met by a cheerful Ukrainian girl in national dress, waving her skirt and addressing guests in Ukrainian. This may leave visitors perplexed and uncertain whether to answer in Russian, or also in mock-Ukrainian.
The restaurant is amazingly large — two floors with five halls and a huge tree growing from the depth of the cloak-room.
"Is it natural?," we asked our waitress, the half-dancing Yelena.
"No," she smiled. The staff remained in an absolutely positive mood, dancing and chatting, while being extremely effective. The dishes were brought quickly and the waitstaff were ready to make recommendations. However, not all the advice should be followed. Our waitress tried to talk us out of a pie made from buckwheat pancakes with liver, onions and sour cream, (180 rubles, $6.80) while I couldn't resist the desire to try it. My attempt was rewarded — the pie turned out to be both delicious and light, which one might not quite expect from Ukrainian cuisine. We found something healthy even among the famous sausages, lard and samogon (home-made vodka). You can't completely avoid the last two — one should try samogon or various nastoiki (liqueurs). The buckthorn liqueur (120 rubles, $4.50 per shot) is a very mild and flavorsome drink, liked by both men and women, as our waitress put it. In spite of its soft flavor, one should admit that these Ukrainian liqueurs can blow your head off, so take care. My companion tried the home-brewed Vodograi (125 rubles, $4.70 for 0.25 liter) and also Ukrainian samogon (120 rubles, $4.50 per shot) which were mild and pure.
The buckwheat pancake pie was ideal with a side order of sauerkraut with oil and cranberries (110 rubles, $4.18). Another starter we tried was stuffed carp (190 rubles, $7.22), a rather light, yet filling fish dish. As for the main course, I couldn't resist the temptation of the famous Ukrainian sausage (mixed beef with pork, 470 rubles, $17.80), which arrived steaming hot on a frying-pan with a garnish of vegetables and forest mushrooms. Stewed rabbit with vegetables and potatoes (430 rubles, $15.90), is another option.
The atmosphere of the restaurant brings to mind Gogol's world mixed with the never-ending holiday season of southern Slavic folk. One can get to hear live Ukrainian music, or a collection of recorded songs that praise the abundance of Ukrainian lands and its people. Unlike most new trendy restaurants in St. Petersburg, Khutor Vodograi is heavily populated with middle-age people and visitors with children, who quite like trying various sweet vareniki (dumplings with sweet or sour fillings) or galushki (another sort of dumpling).
The end of the evening turned out to be exciting. The same girl in national dress offered a free shot of yet another sweet liqueur, with an apple or sushka (not to be mixed up with sushi, sushka is a traditional Russian biscuit), wishing you good evening. This is just what you need before going out to the Russian winter, even if is abnormally warm and snowless this year.
News source: times.spb.ru


Print this news
---
Culture news archive for 15 January' 2007.
Culture news archive for January' 2007.
Culture news archive for 2007 year.