Culture news
Hermitage to Show $100Mln Skull
10.11.2007 16:33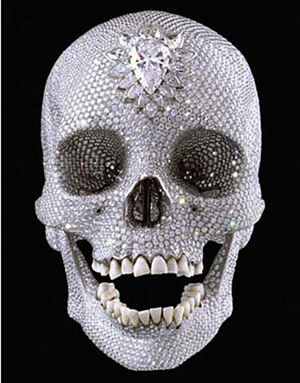 By John Varoli
Damien Hirst's $100 million diamond and platinum skull will go on show in May at the State Hermitage Museum in Russia, where a boom in metals and oil has spawned wealthy new collectors.
The skull, studded with 8,601 diamonds and weighing 1,106.18 carats, will be shown as part of the St. Petersburg-based museum's international contemporary art project, 20/21, which is being launched at the end of October, spokeswoman Elena Getmanskaya said.
A planned world tour for the skull would "probably start in about six months time," Hirst said in an interview. "We might even start it at the Hermitage."
Auction houses and some dealers are reaching deeper into Russia for new customers with tours of art and shows. The country is in its ninth year of economic growth, in large part driven by global demand for oil, gas and metals. Rich Russians are purchasing art for reasons that range from investment to home decorating, as well as a love of art.
Larry Gagosian, who has galleries in the U.S. and U.K. and lists more than 80 artists on his Web site, opens a show in a Moscow shopping mall on Oct. 18 that will include works by Hirst, Jeff Koons, Andy Warhol, Pablo Picasso and Mark Rothko.
"We're coming to Moscow to get to know the market," Gagosian said in an interview in Kiev on Friday. He said a lot of Russian collectors don't come to New York "so, based on the amount of business we've done in Russia over the past two or three years, it seemed a good idea to try to take it a step further."
Hirst, the most expensive living artist, was also at the Pinchuk Art Center in Kiev, where seven of his works, bought by Ukrainian billionaire Viktor Pinchuk, are on display.
Hirst is among artists who have benefited from an 11-year boom in art prices, helped by demand from countries such as Russia, that has quadrupled values for the most expensive contemporary works.
He is part of an investment group that bought the skull, "For the Love of God," in August and plans to resell it later, London art dealer Jay Jopling's White Cube gallery said at the time. The buying group is required to send the skull on tour, it said. The plan to resell the skull came as hedge fund managers and other art collectors lost money in the credit markets.
Hirst said that the skull's tour would include shows "in all the best museums around the world. I just want people to see it. We had a great reaction when we showed it in London, and it's been in newspapers all over the world."
He would not give more details of the skull's sale: "It's been sold. I can't say to whom, because I've signed a lot of confidentiality agreements. They want to remain anonymous."
The life-size skull cost $20 million to make, including diamonds and fabrication, Hirst's business manager Frank Dunphy said in June.
Hirst became the auction world's priciest living artist in June, overtaking Jasper Johns and Lucian Freud at a Sotheby's auction in London. A telephone bidder paid 9.7 million pounds ($19.3 million) including commission for one of his pill cabinets, "Lullaby Spring."
News source: times.spb.ru


Print this news
---
Culture news archive for 11 October' 2007.
Culture news archive for October' 2007.
Culture news archive for 2007 year.