Printed from: http://petersburgcity.com/news/culture/2015/04/16/Hermitage_Patron_Day_1604/
Culture news, 16.04.2015 20:02
The 10th Patron's Day in the Hermitage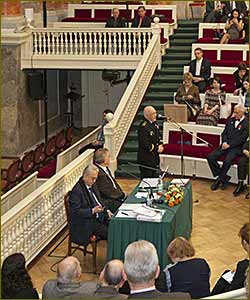 On 13 April 2015 the Hermitage Theatre was the setting for the 10th Patron,s Day, an annual celebration organized by the State Hermitage and the public organization Journalistic Centre for International Collaboration that publishes the "Russky Metsenat" ("Russian Maecenas") almanac of social partnership.
Mikhail Piotrovsky, General Director of the State Hermitage, welcomed those attending the ceremony. Then Arkady Sosnov, editor-in-chief of Russky Metsenat, gave the floor to the participants. Mikhail Podviaznikov, head of the north-western regional centre of the Almaz-Antei concern spoke about the museum and the socially oriented programmes of the Obukhov Plant. The presentation of the project "90 Good Deeds" featured a football star – Vladislav Radimov, the trainer of the Zenit-2 team, who presented commemorative autographed balls to the SOS Children's Village ward Anton Ivanov and the captain of the Antei-Almaz children's football team Artem Morozov. Irina Drozdenko, chairwoman of the board of the charitable foundation A Place in the Sun, presented a project of the Centre for the Social and Working Integration of the Disabled in Leningrad Region.
Maria Riadova, Chief Architect of the Tsarskoye Selo State Museum-Preserve, and Yelena Kalnitskaya, General Director of the Peterhof State Museum-Preserve, recalled significant philanthropic programmes of the past ten years.
Among the guests were participants in the Great Patriotic War –Taras Goncharenko, a "son of the regiment", Lidia Ananyeva, who fought with the Northern Fleet, and Captain Yury Alexandrov, the president of the regional Polar Convoy organization.
At the conclusion of Patron's Day representatives of the Guild of Master Armourers creative union, the collectors and art patrons Alexei Gnedovsky and Gennady Sokolov, handed over to the Hermitage a collection of Sudanese weapons. Examples of the weapons were put on show in cases in the foyer of the Hermitage Theatre. Also on display there were two other works acquired for the Hermitage: a preparatory drawing for Hieronymus Francken the Younger's painting The Parable of the Wise and Foolish Virgins (donor: V.M. Aminov) and a putative portrait of Hetman Mazepa by Balthasar Denner (donor: A.N. Leshchinsky).
As is traditional, for the children who participated in Patron's Day the famous Peacock Clock was would up. The ceremony was accompanied by musical interludes. The choreographic miniatures Flight over Water and Asturia were presented by young pupils of the Boris Eifman Dance Academy. Musical compositions were performed by senior pupils of the specialized ten-year school attached to the Conservatory. Ilya Kozlov, a laureate of international competitions and soloist with the Symphony Orchestra of the Shostakovich St Petersburg Academic Philharmonia, performed fantasies on themes from Rimsky-Korsakov's opera The Golden Cockerel on a violin made by the master craftsman Gabriele Jebran Yakoub that was presented to the orchestra by the famous virtuoso violinist Sergei Krylov.
News source: The State Hermitage Museum