Printed from: http://petersburgcity.com/news/culture/2015/05/24/gov_pismennost_240515/
Culture news, 24.05.2015 23:24
Day of Slavyanskoy pismennosti and culture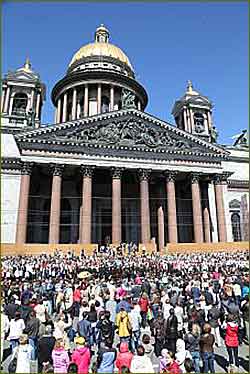 On May 24 on Isaakiyevskaya Square passed the concert of the summary chorus of St. Petersburg devoted to Day of Slavyanskoy pismennosti and culture. The governor Georgy Poltavchenko and the chairman of Legislative Assembly Vyacheslav Makarov congratulated on a holiday of participants of the project and the audience.
"Two years ago in St. Petersburg the tradition was born to give a performance of songs of famous Russian authors on the birthday of the city. Today the choral project unites all countries, and concerts take place in many cities of Russia", - the governor emphasized.
Georgy Poltavchenko also noted that during the holiday there is an official delegation from Armenia. Guests from Yerevan arrived to the northern capital to take part in celebration of the City Day.
On Isaakiyevskaya Square the song program accompanied by a big symphonic orchestra was executed by about 3 thousand people - representatives of choral collectives of the city, veterans, students, school students, fans and professionals. The honoured artist of Russia Vladimir Begletsov became the chief conduct of the project.
News source: Administration of St. Petersburg