Warning: current() expects parameter 1 to be array, null given in /home/webs/city.air.spb.ru/system/advert.robo on line 24
Have your any questions?
Contact us !
---
Hot topics


Visa Support

"Stars of the White


Nights" Festival

"Day of the City"


program
---
Popular search words this week


Apartments
Three-room apartment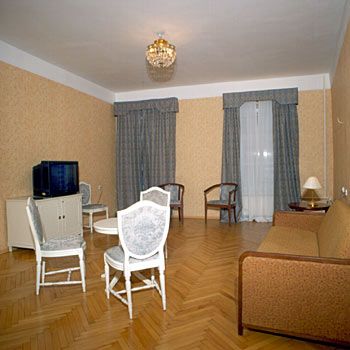 This spacious 3-room apartment is situated on the 1st floor of a 4-storey building just 3 minutes walk from Nevsky Prospekt, the main street of the city. The apartment features two 16 sq. meters bedrooms, containing a double bed and a foldout sofa. The sitting room is 32 sq. meters in area and contains a double foldout sofa, a table with chairs, armchairs and TV. The 12 sq. meter kitchen features an electric gas stove, refrigerator and table with chairs, and the bathroom contains a bath and wash basin with a separate WC next door. Access to the apartment is via a courtyard through a coded building door and a double-locked apartment door. Parking space is available in the courtyard.


Print version
---
Back to All apartments list
---
These apartments are just the small part of our huge store.
If you've not found here apartments which meet your requirements, please fill in the form
---
Special for you.
Freshly renovated two room apartment in beautiful dwelling house in the city centre 300 meters to Nevskij prospect .