Warning: current() expects parameter 1 to be array, null given in /home/webs/city.air.spb.ru/system/advert.robo on line 24
Have your any questions?
Contact us !
---
Hot topics


Visa Support

"Stars of the White


Nights" Festival

"Day of the City"


program
---
Popular search words this week


Apartments
Three-room apartment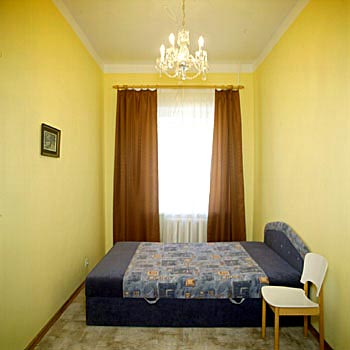 This brand new dazzling apartment is located in the very city centre just a 3 minute walk to the Hermitage. The apartment on the 3rd floor of a 5-storied building comprises 2 superb bedrooms (15 sq.m. and 11sq.m.), a lovable living room (23 sq.m.) and a cosy kitchen (17sq.m.). This spacious flat sleeps up 3 couples as in each of the bedrooms there are comfy double beds and a fold-out leather sofa in the living-room. The apartment is well equipped with TV sets, stereo system and VHS. In the kitchen there are all modern household appliances in mint condition: a fridge, a gas oven, a dishwasher and an electric kettle. In the bathroom there is a shower cubicle, a washbasin, a bidet, a toilet and a washing machine. The windows with double glazing will help to make you feel in the lap of love and comfort and divert your attention from the strenuous pace of life. Access to the apartment is through a courtyard and 2 coded building doors.


Print version
---
Back to All apartments list
---
These apartments are just the small part of our huge store.
If you've not found here apartments which meet your requirements, please fill in the form
---
Special for you.
Freshly renovated two room apartment in beautiful dwelling house in the city centre 300 meters to Nevskij prospect .