Warning: current() expects parameter 1 to be array, null given in /home/webs/city.air.spb.ru/system/advert.robo on line 24
Have your any questions?
Contact us !
---
Hot topics


Visa Support

"Stars of the White


Nights" Festival

"Day of the City"


program
---
Popular search words this week


Apartments
Four-room apartment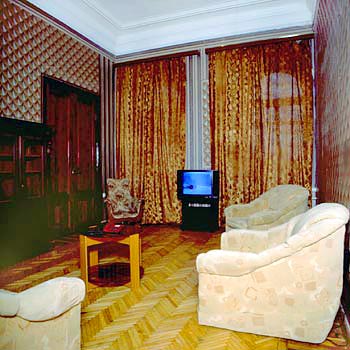 This spacious 4-room apartment is situated on the 3rd floor of a 5-storey building just 10 minutes walk from Sadovaya Metro Station. The bedrooms measure 14, 17 and 29 sq. meters in area respectively and feature double beds and double foldout sofas. The 22 sq. meter sitting room contains a double foldout sofa, armchairs, a TV and a table. The apartment's 13 sq. meter kitchen is equipped with a gas stove, refrigerator and and table with chairs and the bathroom features a bath, wash basin, bidet and WC. Access to the apartment is from a courtyard. Paid parking space is available in the courtyard.


Print version
---
Back to All apartments list
---
These apartments are just the small part of our huge store.
If you've not found here apartments which meet your requirements, please fill in the form
---
Special for you.
Freshly renovated two room apartment in beautiful dwelling house in the city centre 300 meters to Nevskij prospect .