What tourists should know before coming to St. Petersburg
Russia Beyond The Headlines. November 5, 2012
Vladimir Erkovich
RBTH presents the ten most peculiar bans enforced by the authorities of St. Petersburg City.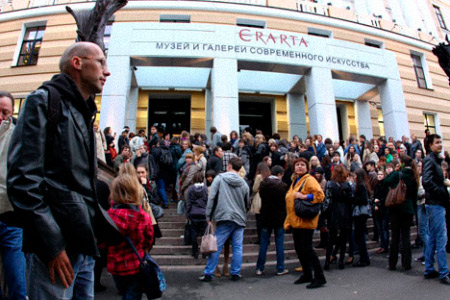 Although St. Petersburg is described as the cultural capital of Russia, the local authorities step up different legilsative, social and "cultural" bans to increase their tenacity for a moral struggle. Source: PhotoXPress.
What links homosexuality, Nabokov's novel "Lolita," saying "good morning," wheelchairs in the underground, political satire and creaking beds at night? They have all been officially outlawed by St. Petersburg bureaucrats and parliamentarians, according to the city's bylaws and decrees.
St. Petersburg is thought to be the cultural capital of Russia: a city that is a museum, the cradle of three revolutions, and mecca for poets. Pushkin, Akhmatova and Brodsky all lived here. And, in our own time, the city on the Neva River remains one of Europe's most prominent cultural centers.
Yet, the truth behind that claim becomes harder to establish with every passing year. Local officials and civic activists are engaged with the populace in a moral struggle, which is conducted primarily by way of banning things. Here are ten examples of the fine work the city's paper-pushers have been doing.
1. Banning Nabokov's "Lolita"
The promoters of Leonid Mozgovoy's one-man show, which is based on Nabokov's "Lolita," were forced to pull the plug on the production. Citizens of St. Petersburg were denied the opportunity to see the performance of their fellow countryman's classic novel because a group of teachers, students and Cossacks actively disapproved it.
Opponents sent a letter to the promoters and demanded that the spectacle be canceled. In their view, the work of the Nobel Prize-winning author was nothing more than wickedness masquerading as art. Mozgovoy subsequently said that he would "no longer have anything to do with narrow-minded people and their chauvinist views."
The play was set to be staged on Oct. 21 at the Erarta Museum of Contemporary Art, whose management was ready and willing to fulfill its obligations and answer for the welfare of its audiences.
2. Detention for "Good Morning!"
Every morning, two young St. Petersburg residents appear at subway stations around the city and stand for one hour holding placards that read "Good Morning!" The couple, known as Esther and Jack, say the underground is the most miserable place in the city and is need of extra cheer.
The police detain them on a daily basis and lecture them extensively on why such activities are banned on the city's underground system. Some police officers have even asked to see their license – without mentioning what kind of license would cover such activities, or where one could be obtained. Cheerfulness is banned, unless otherwise sanctioned in advance.
3. Scrapping Marat Gelman's exhibition
In mid-October it became known that Vitaly Rizzo – the chairman of the Rizzordi Art Foundation – had made a request to reschedule an exhibition of works by Marat Gelman. The show, named "Icons," had to be moved from its original opening date on November 2012 to late 2013. The reason given was "the bad atmosphere in the city."
In response, Gelman announced that he would be canceling the exhibition all together, since it would have lost its contemporary relevance a year down the line. A number of sources indicate that the Foundation had been pressured by the city's governor, Georgy Poltavchenko. The governor, in turn, had been pressed by civic activists who had collected 3,000 signatures calling for the exhibition to be scrapped.
Gelman's exhibition is a collection of contemporary interpretations of icons, which are presented by artists as pieces of art, rather than as religious objects. The St. Petersburg exhibition was due to include featured work by the prominent British artist Damian Hurst.
4. Don't move furniture at night
Deputies of the St. Petersburg Legislative Assembly recently signed a new law concerning "Administrative Offenses." This means that those who enjoy moving furniture around at night face fines of between 500 and 4,000 rubles ($16–130).
If senior officials become involved, then the fines range between 5,000 and 10,000 rubles ($160-320); companies heard moving furniture or hammering at night can be fined from 25,000 to 50,000 rubles ($800-1595).
United Russia representative and member of the St. Petersburg Legislative Assembly, Alexei Timofeyev, further suggested that owners of dogs that bark or whine at night also be fined. His suggestion was not included in the final wording of the bill, however.
5.Outlawing homosexuality
A ground-breaking amendment to the Law on Administrative Offenses was passed at the beginning of 2012. The amendment prohibits the promotion of "pedophilia, sodomy, lesbianism, bisexualism and transgender behavior" amongst minors. It remains unclear why homosexuality (which is not illegal) and pedophilia (which is already covered under the Penal Code) should be included together in one law.
The leader of A Just Russia party, Alexei Kovalev, believes that the law has actually done pedophiles a favor. "Now, anyone who lures children into prostitution will get off with a fine of 5,000 rubles, instead of doing three years in jail. This is actually what lies behind this amendment – all the stuff about homosexuality is just a smoke screen."
6. Classical music for adults
Children under 16 years of age will be prevented from attending a Rachmaninoff concert in the Grand Hall of the St. Petersburg Philharmonic, due to the fact that it has been assigned a 16+ rating.
The recent law On the Protection of Children from Damage to their Physical and Psychological Development has a very bizarre background. The new legislation states that concert promoters, film distributors, CD producers and book publishers should set the age ratings for their products themselves.
In reality, this means that they often err considerably on the side of caution when setting these age limits, fearing the adverse reaction of bureaucrats and campaigners who want children to weep only the purest tears. This is a clear instance of Chekhov's "just in case." The result is that a concert of classical music has turned out to be "for adults only."
7. No demons in St. Petersburg!
Production of the concert "Citizens of the Demons" has been scrapped in St. Petersburg. This is the new name of the famous "Citizen Poet" series, which has attracted huge audiences on YouTube and fared very well at theatres, thanks to its sharp political satire.
The show consists of poetry by Dmitry Bykov (read by actor Mikhail Yefremov) and songs by well-known musician Vasya Oblomov, journalist Ksenia Sobchak and television host Leonid Parfyonov. Promoters claim that the show's cancellation has nothing to do with politics and is related, instead, to problems over dates and figures. Other sources claim the order to cancel the event came directly from the governor's office.
8. Forbidding "Belrus-Putin"
If St. Petersburg theatre-goers want to see "Berlus-Putin" – a production by the Moscow-based Teatr.Doc company – then they will have to trek to Moscow to see it. Not a single venue in St. Petersburg has agreed to stage the scandalous show. Theatre managers simply refuse to stage it, saying that they prefer to keep out of any kind of political theatre, while pointing ostensibly to an absence of any free dates at their venues.
In an interview with the Echo Moskvy radio station, Teatr.Doc's artistic director, Mikhail Ugarov, said this: "Our manager was threatened that, if he let slip what the cultural centers' directors had said, they would deny that he had ever approached them. This is so nuts that it just makes the point of the play more poignant."
9. Disabled in the subway: Access denied
The St. Petersburg authorities have forbidden wheelchairs on the city's underground.City officials believe that, since the subways are not equipped for wheelchairs, people who use them should find alternative means of transport around the city.
Amid their various quibbles, city officials point toward the absence of special equipment required for braking wheelchairs on escalators. There is no outright ban yet, but staff on the underground are carrying out the instructions of their superiors by strongly recommending that disabled persons use surface transport instead.
10. Scandalous Madonna
Activists in St. Petersburg have filed a number of lawsuits at the Moscow Regional Court in St. Petersburg, against Madonna and the promoters of her recent concert in the city, booking agents RMI. The plaintiffs are seeking damages of roughly $10.8 million. Their claim is that Luisa Maria Ciccone used the stage to promote same-sex relationships which, along with other anti-religious actions, caused aggravated emotional distress to the plaintiffs.
Vitaly Milonov – the United Russia official behind the legislation against pedophilia and same-sex relationships – says that representatives of community organizations were at the concert to confirm that it had also been attended by twelve-year-old children.
Madonna's performance thus fell afoul of the new law. Moreover, Milonov said that St. Petersburg officials had issued a statement to Madonna prior to the concert, in which they prohibited her from removing her clothes and promoting homosexuality. Madonna promptly ignored these prohibitions and performed her usual show.

Print this document
---
Back to Articles section