Printed from: http://petersburgcity.com/articles/keenan
Mariinsky hires first American dancer
Russia Beyond The Headlines.
October 15, 2012
Nora FitzGerald
Keenan Kampa is the first American dancer to graduate from the Vaganova Academy and to win a spot at the Mariinsky Ballet, but hard work lies ahead.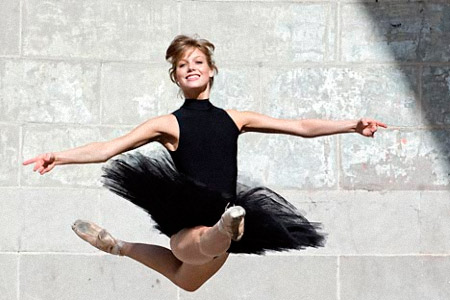 Keenan Kampa: "I feel more in shape in Russia." Source: Gene Schiavone.
When Keenan Kampa joined the Boston Ballet two years ago, it was not quite as thrilling as it should have been. As happy as she was, the dancer quietly nurtured another dream. After three long, grueling years of study at the prestigious Vaganova Ballet Academy in St. Petersburg, Kampa felt restless, and a little wistful in America.
"It was a hard period when I left Russia for Boston. You get used to that system," Kampa said, referring to the style of Vaganova, the feeder school to the Mariinsky Ballet, formerly the Kirov.
Kampa is the first American to graduate from the 274-year-old school that trained Anna Pavlova, Natalia Makarova, Rudolf Nureyev and Mikhail Baryshnikov, among many other legends.
"Your body ends up craving the work. It's a completely different mentality," she said of the transition from Vaganova to Boston, "and I could feel my technique slipping."
A year ago June, she woke up to her dream: She was invited to be the first American dancer to join the Mariinsky. However she had signed a two-year contract with Boston, and could only join the Mariinsky this summer.
On Sept. 2, 2012, 23-year-old Keenan Kampa flew to St. Petersburg to begin her first full season with the Mariinsky Ballet, and will join the company on its U.S. tour this month, which includes stops in California and Washington, D.C.
As a new member of the corps, she intends to keep the mighty work ethic she has become known for – even in Russia. As the first American dancer in the company, she does not want to step on toes. But she has her aspirations.
"Like any dancer, I want to move up the ranks and become a world-class dancer and an artist," she said. What remains unsaid is whether the foreigner-averse Mariinsky, already breaking new ground by hiring Kampa, would ever cultivate an American all the way up to first soloist or principal dancer.
Kampa, a seasoned veteran of Russian ballet, has a fighting chance of success. Though her first year at Vaganova may be a chronicle of adversity, it is far from a cautionary tale. Thousands of students compete for about 70 openings each year. Very few foreigners are accepted to the school, and most stay but a year.
Keenan Kampa, the first American Dancer in the Mariinsky Ballet.
Source: Gene Schiavone
The mean girls, bulimic roommates, language problems, demeaning teachers, and small conspiracies – much of it recounted in a film about Kampa produced by Ken Ferguson – only fueled her drive and her ability to "detach" as she says.
In her darkest and loneliest hours, Kampa rediscovered her Catholic faith, using prayer and meditation to calm her agitation.
By the second year, Kampa could communicate and her muscles had molded to the new routines. Her confidence grew and so did the support she received – she was selected for plum roles in school productions.
Vaganova, and Russia, was all about "learning how to work." Kampa says she will never forget the daily corrections she received from her teacher at the prestigious academy: "knees straight, turn out more." And always, the rhetorical question, "Would you like to do that again?"
Kampa started dancing when she was four years old at the Conservatory Ballet of Reston, Va.
"There was always a joy in her body when she was moving," said Julia Redick, her longtime teacher.
In class, Redick incorporated the Vaganova method, which she had learned in her native Hungary. At a recent presentation of the Ferguson film in Washington, D.C., Redick also quipped that she taught "Vaganova upside down," a more eclectic approach, for American children.
Redick often brought her students to the Kennedy Center for master classes and when Kampa was a teenager, she attended a class that was observed by Mariinsky ballet master Gennady Selyutsky. Afterward, he asked her to come study at Vaganova, an esteemed but under-wraps institution rarely attended by foreigners.
In late August, Kampa spent her last days in the U.S. shopping, packing and spending time with friends and family. She also seemed to be preparing herself for her most important year yet.
In Boston, she said, she had a life outside ballet.
"I was making friends, I had a second job at American Apparel, and I was doing a little modeling," she said. In St. Petersburg, she acknowledged, she doesn't have time for a lifestyle. Mostly, she is dancing. "I feel more in shape in Russia," she said.
"There is much more repetition, and they have such a clear idea of what they are demanding. In the U.S., there is more artistic liberty. In Russia, there is a style that has been preserved. It's a sacred church, and I want to respect it."
---
The Mother of Theater Street
Balletomanes talk about the Mariinsky Ballet in hushed, transcendent tones. The traditions and classics, three centuries of ballet, are kept alive in this company through an enlightened, if arduous, mastery.
Considering the tumult of the 20th century, however, it is surprising that ballet survived the Soviet Union at all. Many attribute that feat to one dancer, Agrippina Vaganova. She struggled herself as a young dancer, only to go on and dance the demanding roles of Marius Petipas. The syllabus she later developed, known as the Vaganova method, is still used around the world. The Vaganova Ballet Academy in St. Petersburg is the international headquarters for this exacting technique.
In a 1977 Oscar-nominated documentary called "The Children of Theater Street," a 90-minute film narrated by Princess Grace of Monaco, viewers get a glimpse of the intense and cloistered world of the Vaganova Ballet Academy of the Soviet Union, when dancers as young as nine years old came from thousands of miles away to endure excruciating auditions. The school has lost none of its luster since that time, and continues to attract even more students, including aspiring dancers from Europe and the United States. Its reputation for greatness – graduates include Anna Pavlova, Vaslav Nijinsky, George Balanchine and Diana Vishneva – is exceeded only by the aura of mystery that surrounds it still.