Printed from: http://petersburgcity.com/articles/love
To Russia, with Love: Visiting St. Petersburg
Chris: This is the first in my series on things to do in St. Petersburg, Russia.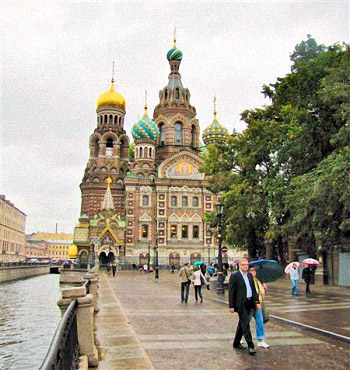 One of the highlights of my travels last year included three days in St. Petersburg, Russia (known as Leningrad during Soviet times). While I've written about the bureaucratic ins and outs of applying for a Russian visa, I haven't put much information out there about what there is to do in this gorgeous city, which is one of the prettiest ones that I've ever visited. This post is mostly about the basics; I'll be doing some more detailed posts later in the week.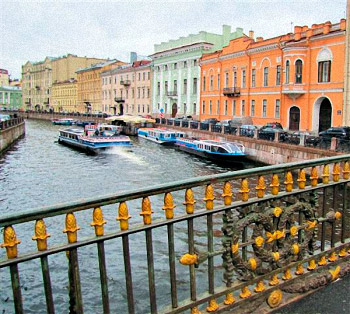 Peter the Great founded St. Petersburg in 1703, looking to European cities such as London, Paris and Vienna for inspiration. The architecture is a mixture of baroque and neoclassical, built alongside canals and passageways that will remind you of Venice. What's great is that most of the design remains intact today, testimony to St. Petersburg's pride as Russia's cultural capital – and the inability of Hitler to conquer the city during World War II.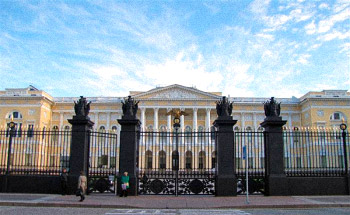 Getting to St. Petersburg
Most people from the US see St. Petersburg while on a cruise ship or river boat. As I wrote in my port update for Cruise Critic, many of the big lines stop at St. Petersburg for at least two nights, which allows you to spend one day seeing the city highlights and another to get out to the countryside to see one of the big palaces.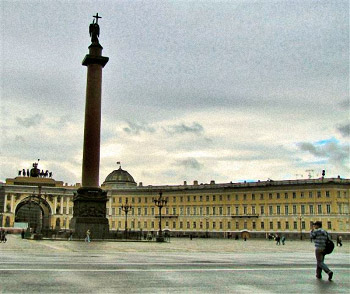 I much prefer how I saw St. Petersburg: Independently, with a tourist visa. It takes quite a bit of red tape to get, but I loved being able to stroll through the streets on my own, doing what I wanted without the restrictions of a group. The historic center of St. Petersburg is quite walkable and I found it easy and safe to get around, even though I don't speak a word of Russian.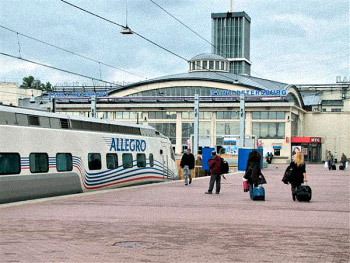 My little group came in to St. Petersburg via the Allegro train that runs from Helsinki. The highs-speed line, which opened in late 2010, is brand-new and, as a two-hour trip, provides a quick way to get into Russia (you'll need all your visas completed before you go). A Eurail pass covers the Finnish portion of the trip; you'll have to pay for the Russian portion, which is about 36, to 49 Euros extra, depending on the class of seat you buy.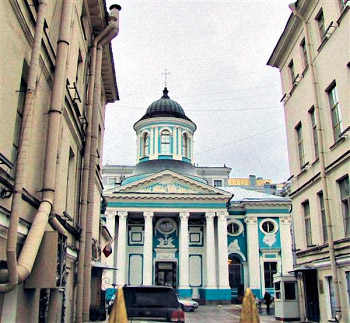 Do you need a St. Petersburg Guide?
Most people who see St. Petersburg on a cruise ship have a guide or take a tour. We did do a city tour with a fantastic guide named Olga. She was very open and up front about current Russian politics, and the corruption that's been going on in the country under Putin. She's also the one who showed us the city's famous subway stations and arranged for a driver to take us out to Peterhof.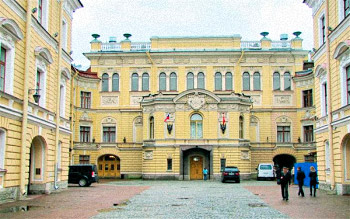 Some tourists from cruise ships never exchange their dollars or Euros for Russian rubles, but I found that getting money from an ATM was no different than anywhere else. Olga explained to us that the city is very expensive for its residents, many of whom have had trouble finding jobs in the post-Communist world (it's not uncommon to have many families sharing apartments now).
Hotels and restaurant meals in St. Petersburg can be expensive, but if you have rubles, it's easy to grab street food without paying too much.
The St. Petersburg Times is an English-language newspaper that has all the info about cultural performances that are going on in the city. People who live in St. Petersburg are mad for theater, ballet, opera and music – and there's something going on almost every night.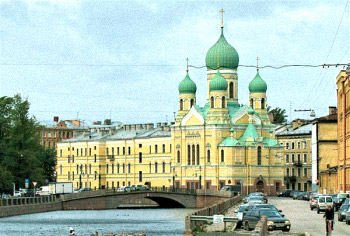 While the ticket prices are expensive for foreigners, residents pay reduced rates. We asked Olga if residents could buy tickets for tourists; she shook her head and told us that it would be difficult unless we spoke fluent Russian. I'm sure some people get around it though. In any case, tickets to a ballet will run between $60 to $100 – often not much more than you'd pay in the States.
If you're up for a stroll, Peter's Walking Tours has been running tours for budget-conscious English speakers since 1996. The five-hour tours leave rain or shine from the Life Hostel at the corner of Nevsky Prospekt and Vladiminsky in the historic center. You can also set up private walking tours with one of their guides for an hourly rate.
A Few St. Petersburg Sights
The Hermitage art museum, the world's second largest art museum housed in the Winter Palace, has been on my bucket list for years. Stay tuned for a separate post on my visit there, as well as a look at the St. Petersburg Metro and an account of my day trip out to Peterhof, Peter the Great's Versailles-style mansion and grounds out on the Baltic Sea.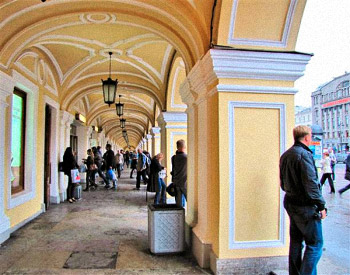 Nevsky Prospekt is St. Petersburg's most famous street and the city's major commercial thoroughfare. One warning: Despite the presence of pedestrian crossings, there is no such thing, in this city of frantic drivers, as walkers' rights; pay close attention to traffic or cross the street through some of its underground tunnels. Nevsky Prospekt is life in Russia on display, with street vendors and exclusive Western boutiques (ranging from Hugo Boss to Versace), cathedrals and parks, cafes and canals.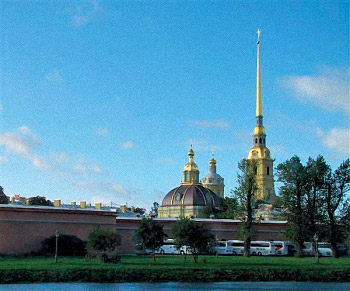 Peter & Paul Fortress is the original part of St. Petersburg. Built in 1703, it was initially planned as a defense against Sweden, but the Russians won that war before the fortress was completed, so it was used until 1917 as a political prison instead. Many of the czars and other Russian royalty are buried here; other highlights include the Baroque-style Cathedral of Saints Peter and Paul and the Trubetskoy Bastion.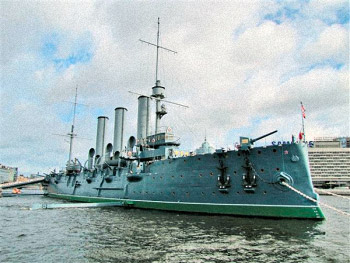 Built in 1900, the Cruiser Aurora served in the Russo-Japanese War as well as World War I. After returning back to St. Petersburg, members of her crew became Bolsheviks and a revolutionary committee was formed on the ship. In October 1917, the ship refused a call to go out to sea. A blank shot from the ship's gun signaled the start of the assault on the royal family's Winter Palace. The ship is now a museum.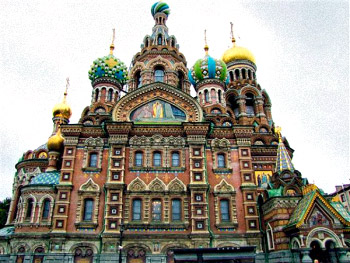 St. Petersburg Churches
The Soviets didn't recognize religion – but luckily, they didn't tear down the city's gorgeous Russian Orthodox churches either. Instead, they used them for often ironic purposes. The Kazan Cathedral, for example, was used as a Marxist museum of Atheism.
Church of the Resurrection of the Christ (Savior on the Spilled Blood) gets its gruesome name from Emperor Alexander II, who was assassinated on this very spot in 1881. Modeled after St. Basil's Cathedral in Moscow, the onion-domed exterior looks so iconic, so Russian, you want to snap as many pictures as you can.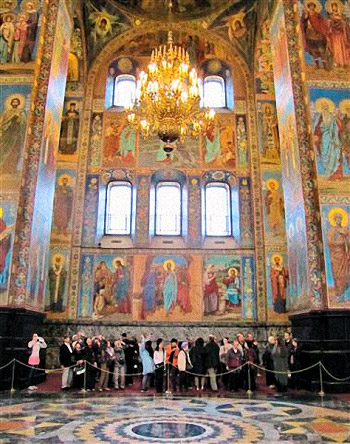 Inside, there's 7,500 square meters of mosaics, all restored, as well as a shrine to the departed czar.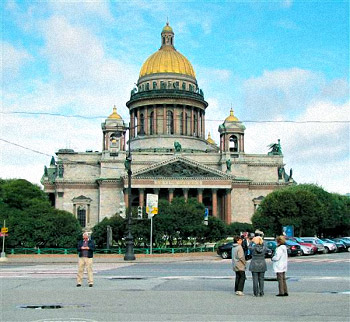 Isaac's Cathedral, the biggest in St. Petersburg, is an immense, awesome spectacle. It's not all that old – it was completed in the mid-19th century – but it's replete inside and out with gorgeous mosaic murals, granite pillars and marble floors. Its huge gold dome can be seen for miles around.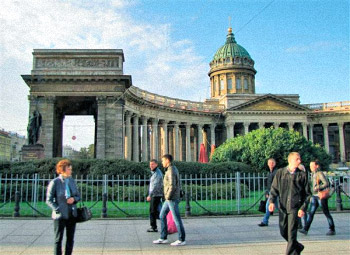 Kazan Cathedral is also impressive and imposing. Yet coming here brought the Russian Orthodox religion, with its elaborate rituals and traditions, to life for me. Worshippers were lined up to kiss the icon of the Virgin Mary, while others stood and listened to the priest give his sermon (no one sits during a Russian Orthodox service and there are no pews or seats in their churches).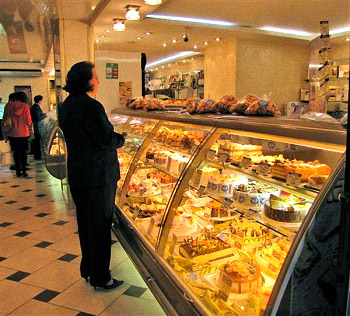 St. Petersburg Restaurants
Russian food tends towards meat and potatoes as well as fresh fish, simply prepared. Grab a blini – pancake with filling – for a quick snack, or stop in one of the tempting pastry shops on Nevsky Prospekt for a sweet treat. In a Russian restaurant, you'll see a bewildering array of "salads" on the menu, many containing fish or meat; try the salad Olivier, a dish that holds a special place in Russian hearts. And it goes without saying that vodka should be your drink of choice.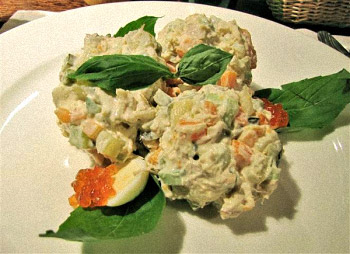 Stolle (Vasilievsky Ostrov, 1st Line 50 – not too far from the Church of the Spilled Blood) is the place to get pies, either the meat or fruit variety. Disregard the cranky counter people and have a seat or bring a few back to your room for a late-night snack. They're that good.
Rossi's (Nevsky Prospekt at Mikhailovskaya, part of the Grand Hotel Europe) is a pleasant sidewalk cafe just off that busy boulevard; the food is adequate, the people-watching sublime.
The Idiot Cafe (82, Moika canal not too far from St. Isaac Square),named for the Dostoyevsky novel, is a favorite with St. Petersburg's expat and artsy crowd. It's known for its borscht and other vegetarian dishes, served in a quasi-Bohemian atmosphere in a cozy basement space. Wash it all down with a free shot of vodka. Staff speaks English.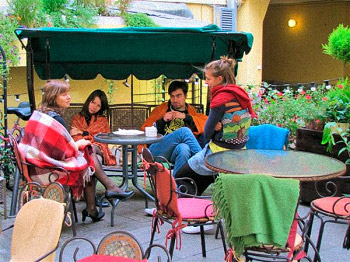 Teplo (45 Bolshaya Morskaya Ulitsa, next to the Vladimir Nabokov Museum) is one of St. Petersburg's more popular restaurants. With outdoor seating and kitschy home-style decor, it reminds you of an independent cafe you might see in a major American city. The potato pancakes, which come with Buko cheese, red caviar and smoked salmon, are delicious, as is the beef stroganoff made with mushrooms and veal. Reservations recommended.
Sever (44 Nevsky Prospekt) is a legendary Soviet-era cake shop, where people used to line up for the brightly colored sweets. Do some drooling before you pick, although prices are reasonable enough that you might choose more than one.
St. Petersburg shopping
Regular readers of this blog know that I'm more into culture and food than shopping. But I had an assignment that required me to seek out some shops before I went to the city so here are a few places that I found: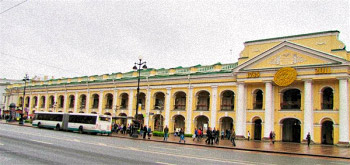 Gostiny Dvor, a department store dating back to the 18th century that envelops an entire block of Nevsky Prospekt. Inside, you'll find all kinds of luxury goods, set aside in boutique-like settings, plus top-quality (read: expensive) souvenirs on the ground level.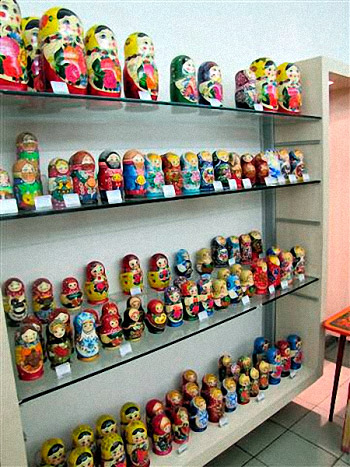 Yes, it's a museum store. But for curated souvenirs that you know people back home will love, it's hard to beat the Hermitage Museum Shop, inside the Winter Palace. Look for sales on amber jewelry, as well as porcelain tea sets.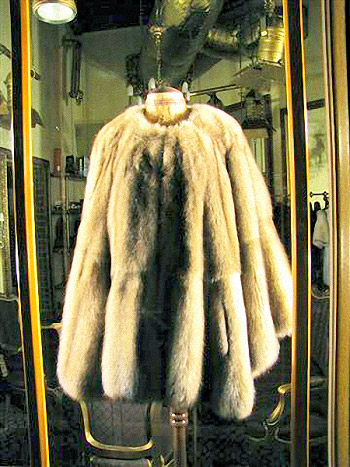 The Russians are resolutely politically incorrect about their fur. Winter nights where the temperature drops down well below zero will do that to you. If your conscience can handle it, check out the fur and leather coats, hats and scarves at Mekhlandia on Nevsky Prospekt.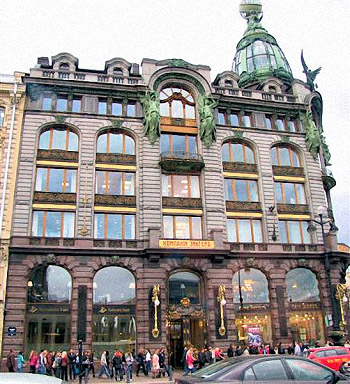 As befits a cultural capital, St. Petersburg is full of bookstores. Luckily, one of the most centrally located is also in one of the city's more beautiful buildings. Dom Knigi, in the historic Singer Building, has English-language books nestled among its huge selection. When you get tired of browsing, go to the cafeteria to take a pastry break and watch the bustle of Nevsky Prospekt below.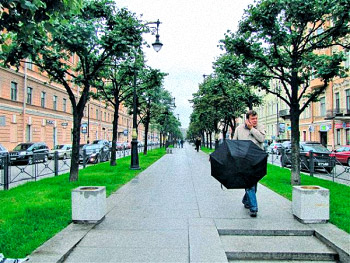 St. Petersburg hotels
The homey Pushka Inn, where we were based, allows you to feel like a local, while still staying within walking distance of the major sites. Don't expect flash at this small hotel, located in a building where author Alexander Pushkin often visited (it was owned by the family of his close childhood friend, Ivan Puschin). But you will find great service from staff members that speak English and rooms that are much larger than your average European hotel (for about $170 per night, high season). The hotel's restaurant serves tasty Russian food at night.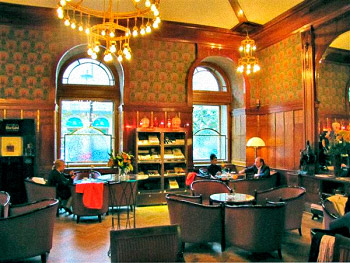 If you want to experience St. Petersburg on a czar-size budget, then the Grand Hotel Europe is for you. With a prime Nevsky Prospekt address and a roster of famous guests (composer Pyotr Tchaikovsky, ballerina Anna Pavlova and President Bill Clinton, to name a few), the Grand Hotel deserves its place on the travel glossies' top lists. My wallet didn't permit a stay, but I did stop in the lobby bar for a peek.
The pricey Hotel Astoria boasts a list of bold-faced guests, although they tend more toward the flashy (Madonna, Versace). Hitler famously issued invitations to a victory dinner at the Hotel Astoria, leaving the date blank; fortunately, he never made it into St. Petersburg. Don't come here for nightlife; when I was here, the lobby bar seemed dead. Instead, come for the proximity to St. Isaac's Cathedral, just steps away, and the Hermitage, which is an easy walk.
There's now a W hotel in St. Petersburg, and the city's lodging scene may never be the same. Expect the same W touches that you get in the States, such as Bliss products, an indoor pool and spa, and trendy decor. The rooftop bar has a view of St. Isaac's, and there's often music and events in the lobby (although locals are probably priced out of miXup, the Alain Ducasse restaurant on site).
Don't pay full price at the W, as the per night rate is much more expensive than what you'd find here in the States. So save those Starwood points and book early!
While St. Petersburg's four- and five-star hotels get all the attention, the city also has several hostels that also provide visa services. Nord Hostel is one of the most centrally located, plus there's free Internet, transfer services to the airport or train station available (for a fee), and no curfew or lock-out time. Note: Nord Hostel does have two properties, one that's a dorm and the other that's more of a shared flat. Ask which one you'll be getting ahead of time to avoid disappointment.
I'll be writing more about St. Petersburg this week. If you have any more tips for St. Petersburg, leave them in the comments.
My trip to St. Petersburg was sponsored by The Eurail Group, but my opinions are my own.