Review: Mikhailovsky Ballet – Don Quixote – London Coliseum
londondance.com,
Performance: 30 & 31 March 2013
Reviewed by Graham Watts – Tuesday 2 April 2013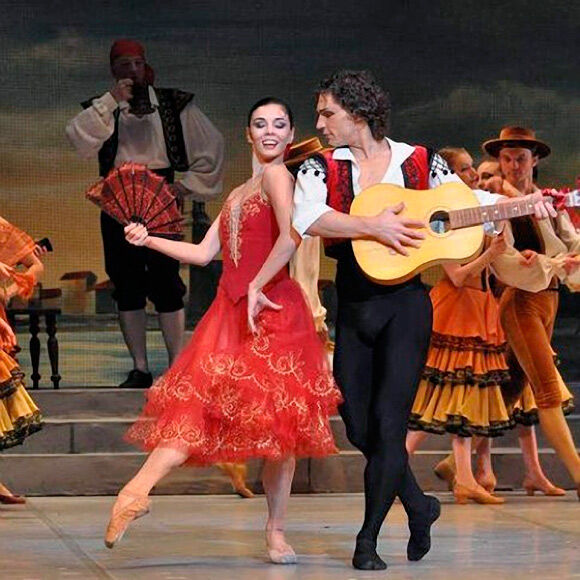 Mikhailovsky Ballet – Natalia Osipova & Ivan Vasliev (aka Vasipova) in "Don Quixote"
Photo: John Ross
Performance reviewed: 30 March 2013
Less than a fortnight prior to this performance, Ivan Vasiliev achieved one of his foremost ballet ambitions by dancing the role of Basilio in Rudolf Nureyev's production of Don Quixote, wearing an exact replica of the great dancer's own costume. That this desire was achieved in Melbourne, as a guest principal with Australian Ballet shows what globe-trotting superstars Vasiliev and Natalia Osipova, his partner (both in life and on stage), have become. Such is their fame that like Brangelina they are becoming known around the globe by a single celebrity name…Vasipova.
Don Quixote is a venerable survivor of the Russian Ballet, having given countless audiences in both Tsarist and Soviet Russia a make-believe glimpse into an exaggerated world of sun-sparkling Spain that they could never experience for real. It is also a particularly important icon for The Mikhailovsky Ballet, since it was the vehicle for the grand gala re-opening of their 180-year old theatre – under new management – in October 2007 (I was privileged to be there in St Petersburg at the time) and Don Quixote has itself now been given a refurbished uplift by the company's Principal Guest Ballet Master (and one of the world's greatest ballet teachers), Mikhail Messerer. His new production – which premiered a year ago – is designed to showcase the company's many talents but above all else it provides a perfect setting for these two superstar dancers
And Vasipova did not disappoint their legion of British fans. This frolicking, "cardboard-sword" ballet, with its matador capes and castanets, provides the perfect vehicle for their remarkable virtuosity cloaked in a "rom-com" mayhem that their vivacious and fearless brio drives along at breath-taking speed. In each Act, the pair leapt like balletic gazelles and whirled like the wind whipped up by two tornadoes. And – perhaps eased by the familiarity of those Australian performances just a few days earlier – every movement and glance was supercharged by the same supreme confidence enjoyed by Olympic athletes who have no doubt that the gold is theirs to claim.
The two constituents of Vasipova cannot – by any stretch of the imagination – be described as perfect ballet dancers but they have that indefinable stamp of greatness that enables them to break the bonds of tradition in pursuit of that extra dimension that appears to be unique to their performances alone. It's not easy to put technical terms to what they do since every showcase movement was embellished with this unique Vasipova hallmark, whether an extra twist or crossover of the legs; by slowing multiple, multiple pirouettes into a stalled arabesque in perfect balance; or simply through the remarkable velocity of their movement. Twice, Osipova launches herself across the space in a horizontal dive to be caught by her partner at the very edge of the stage. Don Quixote has a famous one-armed presage lift, held in balance for as long as can be managed, to which Vasiliev adds standing on one leg. To be truthful, it took a little while for them to get into top gear (which is way beyond fifth) and there were some wilder movements and a certain lack of ?paulement (the correct placement of the shoulders and upper torso) during the first Act, although Osipova's fan dance (with the trademark 'Spanish-style' saut de chat, sometimes colloquially known as the "head-kick" jet?) and her series of pirouettes were remarkably reminiscent of that great soviet ballerina, Maya Plisetskaya in the same role. By the time they arrived at the grand pas de deux of the final act these dancers were into unchartered territory as far as the London Coliseum is concerned since no dancers have ever delivered such an unbroken chain of extreme, bravura ballet technique with such consistent, consummate and unerring skill. I always shy away from making such sweeping "best ever" statements but in this case there can be no doubt.
Whereas in their performance of Giselle earlier in the week I had felt that the Mikhailovsky ensemble were unable to match the premier quality of their lead couple, this Don Quixote was a triumph for Messerer and the whole company with stellar dancing throughout the cast. Ekaterina Borchenko (a late and unannounced replacement for Irina Kosheleva) was notably excellent as The Queen of the Dryads (in many respects, and in much happier circumstances, reprising her earlier role as the Queen of the Wilis in Giselle); Marat Shemiunov was a sympathetic caricature of the noble, self-deceiving romantic dreamer that is Don Quixote; and Alexey Kuznetsov was an effective clown as his sidekick, Sancho Panza; even the large white horse and its cute little donkey companion behaved themselves admirably during their two scenes. The orchestra under Pavel Bubelnikov's conducting was excellent and Vyacheslav Okunev's set and costumes were particularly effective at conveying traditional values with a fresh varnish. The only drawback for me was the poor lighting of the second Act.
Osipova's performances are gaining a legendary status and there seems no limitation to her talent. She is close to becoming the complete prima ballerina that tends to come along only once in each generation. There were roles she was denied as a Principal at the Bolshoi (which she and Vasiliev left at the end of 2011) that she is now able to dance with the new-found artistic freedom permitted by her Mikhailovsky contract. One of these was to dance the Odette/Odile double role in Swan Lake, which earlier this season she performed as a Guest Principal at the Royal Ballet.
I'm prepared to speculate that she will be back with the Royal Ballet later this year, guesting in this role of Kitri in Carlos Acosta's much anticipated new production of Don Quixote. It would be a big mistake to miss this opportunity of casting a ballerina who has made no secret of her desire to dance more frequently at Covent Garden in a role that is her unique speciality.
As for Vasiliev, well the role of Basilio – the mischievous barber – was his first big break at the Bolshoi, when aged just 17. Now, within the month of March, he has achieved the dream of dancing the Nureyev choreography in Rudi's own clothes; and torn up the stage to bring the house down in both London and (by all accounts) in Australia. This role is already so much his to own that – alongside the Vasipova tag – perhaps the barber of Barcelona should also be re-christened Vasilio in his honour.
Gallery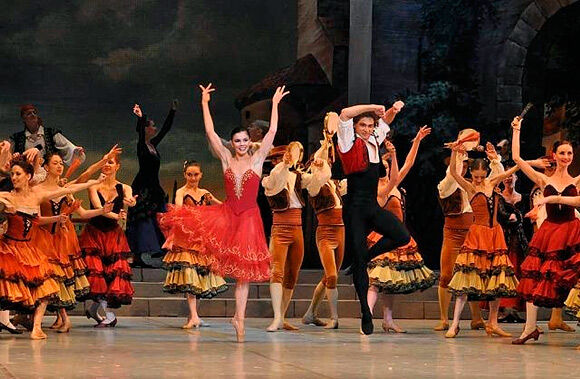 Mikhailovsky Ballet – Natalia Osipova & Ivan Vasliev (aka Vasipova) in "Don Quixote"
Photo: John Ross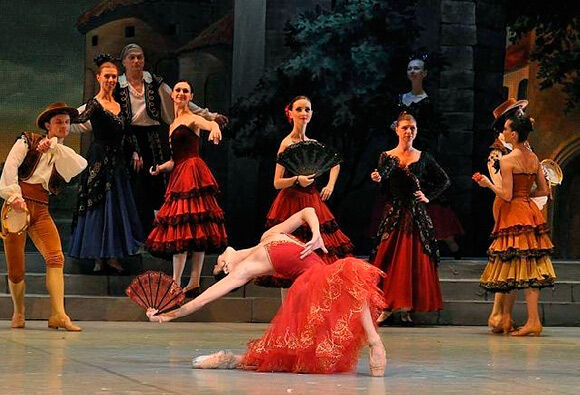 Mikhailovsky Ballet – Natalia Osipova in "Don Quixote"
Photo: John Ross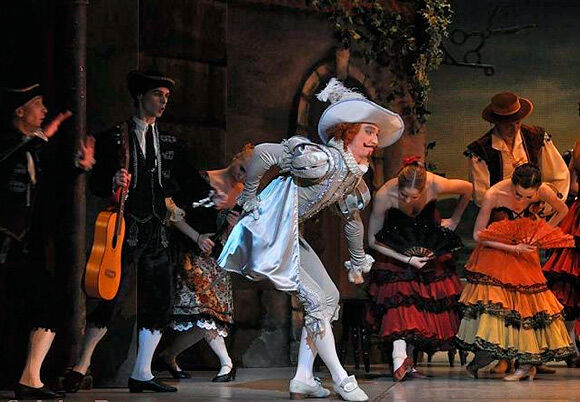 Mikhailovsky Ballet – Pavel Maslennikov in "Don Quixote"
Photo: John Ross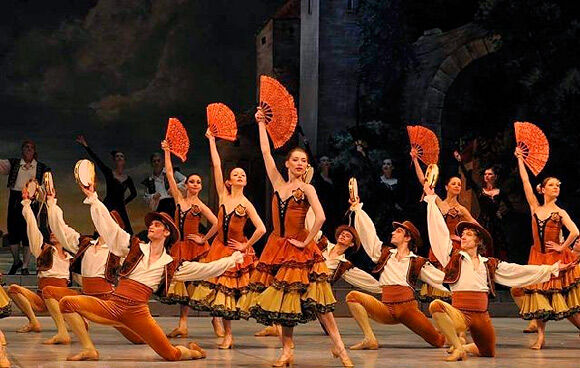 Mikhailovsky Ballet in "Don Quixote"
Photo: John Ross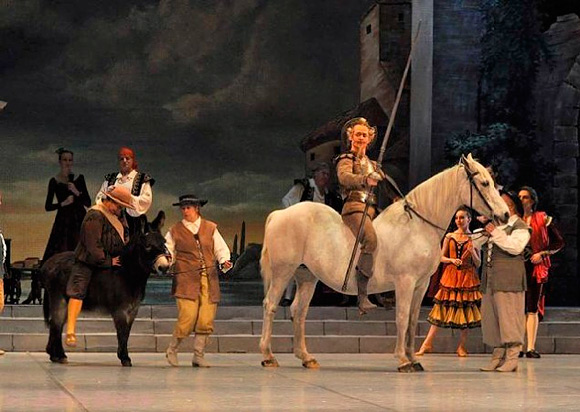 Mikhailovsky Ballet – Sancho Panza, Alexey Kuznetsov & Marat Shemiunov in "Don Quixote"
Photo: John Ross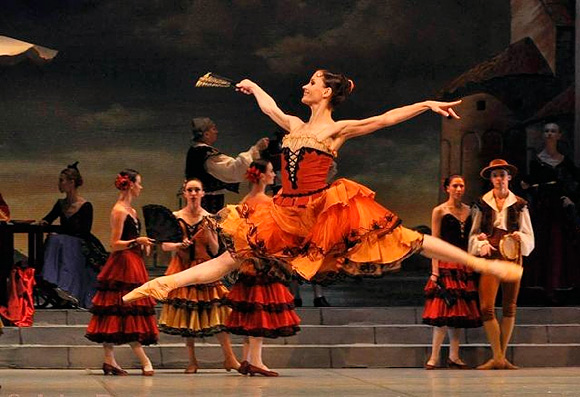 Mikhailovsky Ballet – Anna Kuligina in "Don Quixote"
Photo: John Ross

Print this document
---
Back to Articles section