Metropolitan Kirill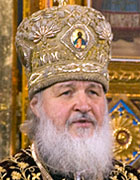 On January 27, 2009 Metropolitan Kirill has been elected as head of the Russian Orthodox Church, becoming the 16th Patriarch of Moscow and All Russia.
Vladimir Gundyayev, (Metropolitan Kirill), was born in Leningrad on 20 November 1946 in Leningrad into a family of clergymen; he is a hereditary priest.
In 1969 he graduated from the Leningrad Theological Academy (LDA) magna cum laude.
On 3 April 1969 he became a monk; on 7 April 1969, a hierodeacon, and on 1 June 1969, a hieromonk.
On 30 August 1970 he was appointed personal secretary to Metropolitan Nikodim (Rotov) of Leningrad and Novgorod, and the chairman of the OVTsS. From that moment Kirill became the ROC's visiting card to the Western countries. As his opponents confirm, the patriarch's overseas visits were directly linked with his work in the KGB of the USSR. In that department Gundiav was known by his codename "Mikhailov."
In November 1975, at an ecumenical assembly in Nairobi, he condemned the letter written by the dissident Rev. Gleb Yakunin about the persecution of believers in the USSR, and denied the fact that believers' rights were being violated.
On 26 December 1984 he was appointed Archbishop of Smolensk and Viazma. As noted in the Internet publication "Stringer" Archbishop Kirill's transfer to Smolensk was a humiliation for him and attested to his fall from favour with the state surveillance bodies.
On 25 February 1991 he was enthroned as metropolitan.
In 1996 he became a member of the Board of Directors of the Peresvet Bank, which serves the financial interests of the Patriarchate. According to Moscow-based journalists, this marks the beginning of the metropolitan's financial and real estate abuses.
Metropolitan Kirill lives in the official residence of the OVTsS in Serebrianyi Bor (Moscow).
Gundiaev's passionate interests are untypical of the religious milieu. He is an avid skier (which is why he purchased a small house in Switzerland), pure-bred dogs, water-skiing, and fast driving.
According to journalists who worked for «Ogonek», "for the past 30 years [Kirill] has had the warmest relationship" with Lidia Mikhailovna Leonova, the daughter of the cook at the Leningrad oblast party committee of the CPSU.
On 27 January 2009 he was elected as the new head of the Russian Orthodox Church, succeeding the late Aleksiy II.

Print this document
---
Back to Personalities of St. Petersburg section