Dmitry Anatolyevich Medvedev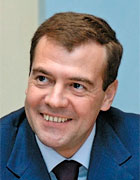 President of Russia.
Dmitry Anatolyevich Medvedev was born Sept 14, 1965. His parents (professor Anatoly Afanasevich Medvedev and Yulia Veniaminovna Medvedeva (Shaposhnikova) were teachers and he grew up in a 40 square meter (430 square ft) flat in a suburb of Leningrad, as St Petersburg was then called.
He says his favorite childhood books were the Soviet Encyclopaedia -- similar to the Encyclopaedia Britannica -- and Jules Verne's Children of Captain Grant.
"He was a leader, people listened to him. He is calm, disciplined and confident," said Irina Grigorovskaya, his mathematics teacher at school 305, where he met his wife. "He was well read from a young age and he read a lot."
Medvedev says the family never starved and holidayed on the Black Sea, a typical Soviet middle-class destination, but money was sometimes too short to buy the records he dreamed of.
A fan of British hard rock bands Black Sabbath, Led Zeppelin, Pink Floyd and Deep Purple, Medvedev said he became disillusioned with Soviet propaganda.
Medvedev was christened into the Russian Orthodox church aged 23 in St Petersburg.
Medvedev went to study law, graduating from the law department of St Petersburg University in 1987, which later became a source of the local and then Kremlin elite.
Putin graduated from the same faculty in 1975 and Anatoly Sobchak, Putin's political mentor and later mayor of St Petersburg, taught at the faculty.
"He was one of the bright sparks from civil law," said Nikolai Kropachev, current dean of the law faculty who worked with Medvedev in the 1990s. "If you asked him to find two solutions to a problem, he would find three, or find a solution no one had ever found before."
Medvedev submitted a sparkling dissertation and went on to teach civil law at the faculty, where he insisted students have a good grasp of Latin.
He also worked for the external relations committee of the St Petersburg mayor's office where he established a friendship with Putin, who was also working for the mayor after returning from a KGB posting to Dresden.
While still teaching and working at the mayor's office, Medvedev moved into Russia's chaotic business world.
"He started practicing as a lawyer," law faculty dean Kropachev said. "In the 1990s completely new legislation had appeared and ... there was massive demand for lawyers."
Medvedev worked as a key lawyer for the Ilim Pulp paper firm, even helping to found the firm, though colleagues say he was never treated as an equal by the firm's owners.
After being appointed prime minister in August 1999, Putin invited Medvedev to Moscow, appointing him deputy head of the government administration in November.
Boris Yeltsin made Putin acting president on the last day of 1999, and Putin appointed Medvedev a deputy to his chief-of-staff, Alexander Voloshin.
Medvedev worked as chief of Putin's election campaign in March 2000. He was elected Gazprom board chairman in June 2000 and played a key role in Putin's plan to reassert the Kremlin's control over the gas giant.
When Voloshin resigned in October 2003 over the arrest of Yukos owner Mikhail Khodorkovsky, Medvedev was appointed chief-of-staff, one of Russian politics' most powerful posts.
In 2005, Putin moved Medvedev to the government making him first deputy prime minister and gave him responsibility for carrying out four national projects to improve healthcare, education, housing and agriculture.
Putin announced that Medvedev was his favored candidate for president on December 10 last year. The next day Medvedev said he wanted Putin to become his prime minister.

Print this document
---
Back to Personalities of St. Petersburg section