Sergei Mironov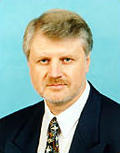 Speaker of the FR Federation Council.
Born on February 14, 1953, in Pushkin (suburb of Leningrad) in a military serviceman's family. Has high juridical, economic, technical education, as well as a high education in the sphere of state administration (the North-Western Academy of State Service under Russia's President). Has a certificate of specialist in the first category securities management.
In 1971-1973 served in airborne troops in Lithuania and Azerbaijan. Worked as a geophysics engineer in "Rudgeophysika" research and production association since 1979. Worked as a senior geophysicist in an aviation team in Mongolia in 1986-91. Executive Director of "St. Petersburg Renaissance" construction corporation since 1994.
Elected Deputy (1994-1998), First Deputy Chairman of St. Petersburg's Legislative Assembly of the first convocation (1995-1998).
In September 2000 was elected Chairman of the political council of the St. Petersburg regional socio-political movement "St. Petersburg's Will".
In August 2000 was awarded with a name gun.
Married, has a son and a daughter.

Print this document
---
Back to Personalities of St. Petersburg section