Vladimir Putin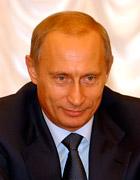 The Prime Minister of Russia.
Vladimir V. Putin was born in Leningrad (St. Petersburg since 1991) on October 7, 1952. His father, Vladimir S. Putin, was a factory foreman and a World War II veteran, a participant of Leningrad's defense against the Nazi Germany. His mother, Maria I. Putina, was born in the Tver region of Russia. She survived the 900-day German siege of Leningrad during the war.
In 1975 Vladimir Putin has graduated from the Leningrad State University (Faculty of Law) and joined the Soviet State Security Services. During the years 1985-1990, Putin has been working in East Germany (the former German Democratic Republic). He resigned from the State Security Services on August 20, 1991.
In 1990 Putin became Assistant Rector of international affairs at the Leningrad State University and was later promoted to the post of the Leningrad City Council Chairman's Advisor.
On June 12, 1991 Putin was appointed head of the International Committee at the St. Petersburg Mayor's Office. His tasks at the new position involved attracting foreign investments to the city economy, establishing and maintaining co-operation with foreign partners and supervising the creation and opening of joint ventures.
In March 1994 Putin became Mr. Sobchak's head of external relations, and after that he has been combining his job at the International Committee with his new post of the St. Petersburg government's First Deputy Chairman. During the same period he has headed the city's Emergency Committee and monitored the activities of law enforcement agencies. He has worked in close contact with the Legislative Assembly and St. Petersburg's Public Relations Department.
In 1996 he was recommended for a job in the presidential administration by Anatoly Chubais, where in March 1997 he became Deputy Chief of the President's administration and head of the Main Control Board. In May 1998 he became the presidential First Deputy Chief-of-staff in charge of Russia's regions and territories. In July 1998 Putin was asked to take charge of one of Russia's new state security organizations, the Federal Security Services (FSB), replacing Nikolai Kovalyov. In March 1999 President Boris Yeltsin appointed him Sectretary of the Russian Security Council, while keeping his post of the FSB Director.
Putin was appointed Russia's Prime Minister in August 1999. Following Boris Yeltsin's resignation on the last day of the 20th century, he became the acting President of Russia.
In the presidential elections held on March 26, 2000, Putin received 52.94 percent of Russia's votes. A total of 39,740,434 people have voted for him. By securing more than 50 percent of the votes, Putin has ensured his victory in the first round of the elections. He will be inaugurated on May 7 and his new government will subsequently be announced.
Boris Yeltsin has introduced Putin to the Russian people by saying that "he will be able to unite around himself those who will revive Great Russia in the new 21st century".
U.S. Secretary of State Madeleine Albright praised him for being very well-informed about the topics he deals with. Putin is said to be most popular among young people, Muscovites and those with higher education. His reputation is of a good chairman and organiser.
Putin has a Candidate's Degree in Economics. He has good command of English and German.
Putin is fond of sports, especially wrestling. He has been going in for sambo (Russian style self-defense) and judo since the age of 11. He won St.Petersburg's sambo championships many times and became Master of Sports first in sambo (1973) and later in judo (1975).
Vladimir Putin is married with two daughters: Masha, 14, and Katya, 13.
His wife Lyudmila is a graduate of the Leningrad State University's Philological Department. She has worked as a stewardess and a schoolteacher and knows German, Spanish and French.
Due to constitutionally mandated term limits, Putin was ineligible to run for a third consecutive Presidential term. After the victory of his successor, Dmitry Medvedev, in the 2008 presidential elections, he was then nominated by the latter to be Russia's Prime Minister; Putin took the post on 8 May 2008.
Throughout his presidential terms and into his second term as Prime Minister, Putin has enjoyed high approval ratings amongst the Russian public. During his eight years in office, on the back of Yeltsin-era structural reforms, steadily rising oil price and cheap credit from western banks,Russia's economy bounced back from crisis, seeing GDP increase six-fold (72% in PPP), poverty cut more than half and average monthly salaries increase from $80 to $640, or by 150% in real rates.
 Analysts have described Putin's economical reforms as impressive. During his presidency, Putin passed into law a series of fundamental reforms, including a flat income tax of 13 percent, a reduced profits tax, and new land and legal codes.

Print this document
---
Back to Personalities of St. Petersburg section