Printed from: http://petersburgcity.com/dine-and-wine/restaurants/?id=319

Restaurants/Russian cuisine/
Russian House

"The Russian House". Restaurant of the exuisite Russian cuisine. A unique opportunity to taste masterpieces of art of cookery: potato halves a la Tolstoi, ukha with kundubki, boiled salted pork stuffed with vegetables and baked with spices.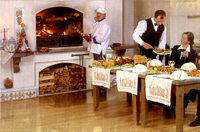 The real live music, russian, cossack and gipsy folklore complete colouring of well-known Russian hospitality. For all comers - comfortable after-dinner rest in cosy apartments (with jacuzzi), through which windows one can see the magnificent view of Catherine and Alexander parks."The Russian house" arranges private and corporate parties, serve tourist groups – 400 placing seats. Flexible system of discounts. "The Russian house" - the standard of Russian hospitality!