Printed from: http://petersburgcity.com/dine-and-wine/restaurants/?id=322

Restaurants/European cuisine/
Cat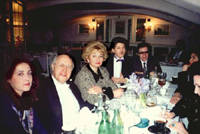 "I ask the ďCATĒ for the gastronomic asylum".
(Film director Eldar Ryazanov)
This is cosy and respectable, and at the same time such a homely restaurant! It is a refuge and a culinary Mecca of the creative elite of St. Petersburg and Moscow! It has been five years since it for the first time opened its doors on Karavannaya street, a few steps from Nevsky.
Cat is a wonderful animal that with all nations is associated to be guardian of the hearth. That is why the restaurantís visitors are met with a display of catsí statuettes: black, red, variegated in color. They are not only making the restaurantís image but are talismans of the enterpriseís flourishing. The word CAT itself is translated in Russian language as Culture, Economy, Creativity.
Famous cooks of the ancient school work in CAT, the ones who created the fame for the Leningrad restaurant ďNevaĒ.
Have you ever tasted pork pocket under mint sauce and viande a la earl? You shall believe that while visiting CAT the culmination of your dinner may become a cutlet of mutton prepared in a special way!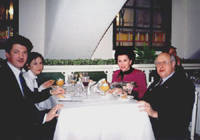 The spectrum of restaurantís wines will not dissatisfy you Ė its menu covers almost everything! French white wine Shablis will tune you in romantic mood, Le Somelie cool your lips and calm you. Red Argentine wine Terrazas Alto Malbek 2000 au contraire will wake your soulís feelings. Italy sparkling wine will amuse and will tune to a solemn mood.
But there are also Georgian wines, whisky, cognacs, tequila and liquors in —ņ"ís bar at and the kitty CAT invites all visitors to taste them and personally to feel pleasure of fire and love! Oh, God, we have forgotten about snacks! Taste, as slices of chicken salad with prunes melt in a mouth, as the hot snack - squids a la Korean - burns lips. And special Petersburg delicacy - pickled lampreys!
Your stay in —ņ" will be accompanied by fine music, the guitar will sound gently and tenderly, but a tiny bit hushfully, in order for you to commune with friends, the beloved and colleagues on business. And may be, you need more intimate atmosphere? Attention! In —ņ" the small VIP-hall on 5-6 persons recently has opened and waits impatiently for you! You see each visitor for this restaurant is unique, and it doesnít matter if he is well-known actor or the veteran of war.
And everyone leave this place with the big desire to return here even once. Albums with photos and opinios of —ņ"ís visitors eloquently speak about this. And when a paper failed, visitors began to write on the walls of the hall. For example:
"Both grey-haired and just grey
Left in the ďCATĒ his undying trace"
(Actor Valentin Gaft)
| | |
| --- | --- |
| Address: | Karavannaya street, 24 |
| Subway (Metro): | Nevsky Prospect (Browse map) |
| Tel: | 315-38-00 |