Events
20-28 July there is Youth Tennis Tournament in St. Petersburg - part of "A Junior Star" program
July 19, 2002 - July 28, 2002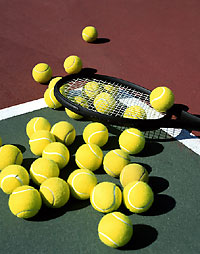 As Elena Komarova, the tournament manager put it - main event of the tournament is the 2nd category's contest of
boys of age 14 and younger, and as the contest of couples, aged 14-years-old. On July 26 will also take place
an amateurish, family series of contests under the motto "Mammy, Daddy and Me", where anyone willing can participate. Seven youth sportsmen represent Russian team on the tournament. Besides, tennisists from Moscow, Sochi, Tolyatti, and other cities will arrive to strive for the Winner Cup. For them, organizers – Tennis Federation for the North-West region of Russia, sport complex "Krestovsky" and a firm "Elga, ltd." – provide free food and board, plus a round-up excursion for the children.
Of 32 boys – this tournament players – 20 are re-known, best for that age tennisists of Russia.
Since 1998 Youth Tennis Tournament has been annually held on the territory "Krestovsky". This year, even special stands at the tennis-courts of the complex has been constructed.
Event source: gazeta.ru

Print this news
---
Events archive for 19 July' 2002.
Events archive for July' 2002.
Events archive for 2002 year.