Events
Group "The Ladder " celebrates the twenty five years' anniversary.
July 22, 2002 - July 25, 2002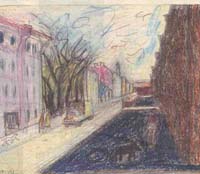 July, 25 in the Marble palace of the State Russian museum the exhibition of artists of group "The Ladder " which celebrates its twenty five years' anniversary will open.
"The Ladder " was formed in 1975, during a sharp opposition of official art and artists - nonconformists. Its creation was attempt to unit artists going in creativity by ways distinct from socrealism. The group has united the masters working in various kinds of art, but relatives each other on spirit.
There are such famous in art names as : N.Koshel'kov, V.Dolgopolov and V.Mishin, "simply" painter A.Zaslavsky, sculptors L.Dobashina and L.Lanets and others.
Despite the fact that the group had huge aspiration to make a personal exhibition in 1975, the first display has passed only in 1988. Then exhibitions in Tallin and Yugoslavia have followed.
The exhibition in the Marble palace will show works of eight authors in variety creative manners and a wide emotional range. The main leitmotif of anniversary will be the artists' aspiration to comprehend the phenomena of life in its depth, to catch signs and features of the varying world.
Event source: artpiter.ru

Print this news
---
Events archive for 22 July' 2002.
Events archive for July' 2002.
Events archive for 2002 year.