Events
On Friday from settlement Losevo of Leningrad Region the first Russian adventure race will start.
July 26, 2002 - July 27, 2002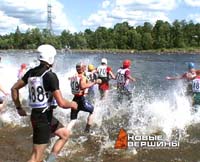 As Anna Medvedeva, the director of race,informed, teams from Moscow, Saint Petersburg, Ukraine and Latvia have submitted entries. During two days 24 teams have to overcome 250 kilometers without any stops. Each team consists of two persons - and participation in races is not limited neither a sex, nor age.
In the program of race there are such sports disciplines as orientation, driving on a mountain bicycle, water crossing, rock-climbing and others. Organizers of race - the participants of many international races who are included in the first Russian adventure club " Adventure Races Club"- will estimate results of teams. Prizes - sets of sports equipment- will be presented to three teams which have come to finish first.
Multisports today are the most developing kind of sports in the world. Race in Leningrad region is only a first step of multisports in Russia, has noted Medvedeva. The following race the Russian adventure club plans to carry out already an autumn of 2002.
Event source: gazeta.ru

Print this news
---
Events archive for 26 July' 2002.
Events archive for July' 2002.
Events archive for 2002 year.