Events
George Segal (1924-2000): Retrospective
August 7, 2002 - October 30, 2002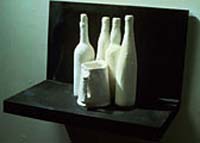 On 7 August, 2002, a unique retrospective exhibition of the modern American artist George Segal (1924-2000) will open in the rooms of General Staff. 98 exhibits including sculpture, paintings and drawings span all the stages in this major US master's creative life.
The exhibition is organized by the State Hermitage Museum in cooperation with the George Segal Foundation and the Zimmerli Art Museum of the Rutgers State University, New Brunswick, New Jersey, U.S.A.
Art critics who started to take notice of Segal in the late 1950s tried at once to determine his place in the system of arts. His resolute abandonment of representation could not help attract attention in the epoch when the abstract expressionism reigned supreme. At first he was classified as pop-artist; this classification being prompted by his participation in the exhibitions of this movement's founders. But it was the similarity of techniques such as the use of real objects rather than the spirit of art that was common between them. Actually, George Segal held a place of his own in the art of his time.
During 2000 the Hermitage exhibition successfully toured six cities of Japan.
The State Hermitage Publishing House put out a full-color illustrated catalogue of the exhibition.
Event source: hermitage.ru

Print this news
---
Events archive for 07 August' 2002.
Events archive for August' 2002.
Events archive for 2002 year.