Events
IV international festival of experimental arts and perfomance.
August 21, 2002 - August 27, 2002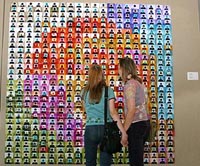 The forum of the newest tends of the modern art and technologies represents boundary genres and the kinds of the artistic, intellectual and technical creativity, existing to the beginning of III millenium, in uniform exhibition space. New technologies on this festival represent both artists, and scientists. Constant participants of Festival - University of space instrument-making with the newest computer development, known art-groups: " Theatre Kolejchuka "," Blinds "," Iguana", "Wood House ", known artists of St. Petersburg and Moscow: Sergey Bugaev (Africa), Andrey Chezhin, Alexander Medvedev, Valery Mishin, Glory Flax.
For the first time in St. Petersburg will present the installations - Zurab Tsereteli, Dmitry Prigov, Vasily Tsereteli. Participants of numerous international festivals of the newest art and young artists of Russia, Byelorussia, Ukraine, Austria, England, Germany, Hong Kong, Denmark, Israel, Spain, Italy, Canada, USA are invited, Finland, France, Japan, Portugal, Czechia, Sweden, Switzerland, Yugoslavia. The festival assumes acquaintance to features and tendencies of development of art and culture in XXI century. In the program: perfomance, video - foto-projects, installations, computer art, scientific conference.
Event source: manege.spb.ru

Print this news
---
Events archive for 21 August' 2002.
Events archive for August' 2002.
Events archive for 2002 year.