Events
Prize fund of the "Grant-prix of Saint-Petersburg" will be 492 thosand dollars.
September 5, 2002 - September 30, 2002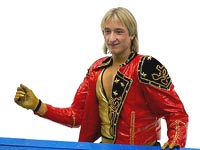 The "World series of the Grant-prix" among the best figure skaters of the world will be held from February,28 till March,3, 2003 in the Ice Palace. The "World series of the Grant-prix" will be held in the framrwork of the 300-anniversary f Petersburg and it's prize fund will consist of 492 thousand dollars.
The president of the Figure Skating Federation of RussiaValentin Piseev informed, that the first prize wil be 50 thousand dolars, the second – 30 thosand and the third - 20 thousand to each winner in the single, pair and dance skating. Potential television audience will be 600 million viewers. On the competition it is expected more than 40 thousand viewers.
Since 1996 the competitions in this champion series are realized in Saint-Petersburg. The last time in 2001 there was one of the laps of the Grant-prix – The Cup of Rusia. That time Anton Siharulidze and Elena Berezhnaja became winners in the pair skating, Eugeny Pluszhenko – in the men's singles and Elena Sutskaja – in the ladies singles. The best dance programm was shown by Italian pair – Barbara Fuzar-Pory and Maurizzio Margalio.
Event source: vremya.ru

Print this news
---
Events archive for 05 September' 2002.
Events archive for September' 2002.
Events archive for 2002 year.