Events
Birthday of the Elaginoostrovsky museum
September 17, 2002 - September 20, 2002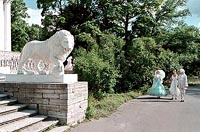 September, 19 the Elaginoostrovsky palace-museum of Russian arts and crafts and an interior of XVIII-XX centuries invites you to celebrating of 15-anniversary from the date of its creation. Initiators of the project: the Central Park of Culture and Rest named after S.M.Kirov and the Elaginoostrvsky palace - museum.
September, 19:
13.45 presentation of sculptures of S.S.Pimenova at last stage of restoration. (Kitchen building of the museum) 14.00 - press conference devoted to birthday of the museum. (Main halls, 1 floor)
15.00 - opening of the exhibition "Lady in an interior". (Showroom "Karetny"(Coach) of the Konushenny building of the museum)
Address: Saint Petersburg, Elagin island, 4
Phones: (812) 430-1130, 430-1131, 430-0131
Event source: museum.ru

Print this news
---
Events archive for 17 September' 2002.
Events archive for September' 2002.
Events archive for 2002 year.