Events
Exhibition "St. Petersburg Art of the XXth century" opened in "Manege" central exhibition hall
September 19, 2002 - September 27, 2002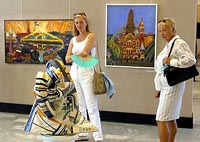 At the exhibition, organized in the framework of St. Petersburg's 300th anniversary celebration, unique collection is demonstrated, prepared for 10 years.
Its birth is attributed to the year of 1991 when under the initiative of the Culture Committee of city administration it was decided to begin formation of funds for the future museum of modern art. At present in "Manege" collection there is more than 1,700 units (paintings, graphics, sculpture, decorative art and other objects). Considerable part of the collection comprise works of masters who established "creative climate" of the epoch and laid the soil for the development of the art of further time.
In specialists' opinion, the exhibition allows to newly take a view of St. Petersburg's art, focusing on its historical prospective, revealing succession of time and tradition. During the years of its life, the collection acquired both artistic significance and scope, having become one of the largest city collections of modern art.
Event source: regnum.ru

Print this news
---
Events archive for 19 September' 2002.
Events archive for September' 2002.
Events archive for 2002 year.