Events
The exhibition "Ambassadorial St. Petersburg" is opened
September 27, 2002 - October 6, 2002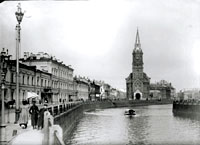 On Thursday, September, 26, in the concert-showroom "Smolny cathedral" the exhibition "Ambassadorial St. Petersburg", devoted to 200-anniversary of the Russan Ministry of Foreign Affairs has opened. For the first time visitors will become acquainted with internal life of embassies of the foreign states in St. Petersburg.
Exhibits of an embassies life will be presented during reign of two last Russian monarches - Alexander III and Nikolay II. Photos will be widely presented, many of them - for the first time. All pictures are printed on the old, kept in archives negatives, created by the well-known Petersburg master Charles Bulla and by other court photographers.
For the first time visitors of an exhibition will become acquainted with diplomatic kitchen, will see, how dinners in embassies prepared, tables were covered, receptions were held, how interiors of the Petersburg embassies of China, Mongolia and Siam looked.
Models of yachts on which there were diplomatic negotiations, the service on the table at which emperor William II had dinner during his visit to Northern capital, Henry Prussian's hanger, presented to Nikolay II, and also maps of Russian empire 1886 and 1911 with designation of new borders, the political posters devoted to the Russian-Japanese war, stamps of Bulgaria which during five years were printed in Russia will be presented near to photos of balls and celebratory receptions.
The exhibits presented at the exhibition, belong to collections of the Petersburg collectors, foreign consulates in St. Petersburg, State museum-reserve "Pavlovsk", the Central naval museum, the Russian national library, the Military-historical museum of artillery, engineering armies and armies of communication, the Central museum of a railway transportation and other Petersburg museums and archives.
The exhibition will be lasted till January, 15
Event source: rosbalt.ru

Print this news
---
Events archive for 27 September' 2002.
Events archive for September' 2002.
Events archive for 2002 year.