Events
Fresh musical festival "The Flood"
September 27, 2002 - October 6, 2002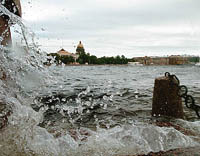 Fresh musical festival "The Flood" will take place in St. Petersburg from October 2002 to March 2003
The name came after an alternative to the famous legend: a prediction made to Peter I that the city will exist only 300 years and then disappear under water though its organizers treat the prediction as the city flood in waves of its rock festival.
"The Flood" festival comprises a number of musical waves. Its main events will take place in "Port" club: on October 4 the city will receive a folk wave, on October 25 – a rock wave, November 15 – a raggy and ska waves, on December 13 – the wave of alternative music. During the days of festival agitation will be on various other stages of the city as well. The project will be accomplished by a gala concert under the name of "Deluge" in the Lensoveta palace of culture on March 15, 2003.
The only term for participation in the festival is to have a song about St. Petersburg in the program of performers. The best compositions will be issued on compact-disks and realized during the period of St. Petersburg's jubilee celebration.
When talking about the project, musical critic Andrei Burlaka remarked: "For today we have a variety of creative forces, and we have all the parts for what makes one's culture a structured one (in the West they name it show-business). It is hard to imagine how the festival will go but yet new ideas and projects show up".
Press-attache for one the project's organizers – "Bomba-Piter" company – Anastasia Lobanova made it clear on the festival's objectives: "First of all, we want to thus congratulate our city, make it a present, and second, we are going to attract attention of large sound-recording companies to our young and fresh performers".
The youth organization "Zachem(Why)" with support of St. Petersburg Committee on youth policy, Manchester Files/"Bomba-Piter" sound-recording company and international press-center "300 Years to St. Petersburg" holds "The Flood" rock festival for St. Petersburg.
Event source: rosbalt.ru

Print this news
---
Events archive for 27 September' 2002.
Events archive for September' 2002.
Events archive for 2002 year.