Events
The exhibition "Soul of person is a soul of flower"
September 30, 2002 - October 15, 2002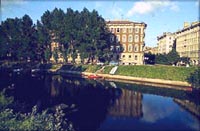 On Monday in the Alexander Blok's museum-apartmen t in frameworks of the "Kolomna readings" the exhibition "Soul of person is a soul of flower" opens. The exhibition is devoted to 130-anniversary of the first clinic of emotional illnesses, the hospital of sacred Nikolay Chudotvorets located in one of the oldest areas of St. Petersburg - in Kolomna - on quay of the river Prjazhka.
As the manager of the Blok's museum-apartment Galina Savel'eva has informed, works of painting, diagrams and crafts (painted easter eggs, dolls) will become exhibits. Authors of these works - patients of the hospital on Prjazhka – infirms and not seriosly ill patients who takes in clinic a medication of art-therapy (treatment by art). Many of the works presented on the exhibition remind children's pictures.
Besides at the exhibition case histories of clinic patients, strait-jackets and special furniture - heavy, filled by sand hospital bedside-tables will be presented.
The exhibition work will last for one month. During this time it is possible not only get acquainted with works of clinic patients but also to help them – at the time of the exhibition reception of donations and warm things will be held.
Event source: regions.ru

Print this news
---
Events archive for 30 September' 2002.
Events archive for September' 2002.
Events archive for 2002 year.