Events
In summer 2003 in St. Petersburg a maritime salon will open
October 14, 2002 - November 14, 2002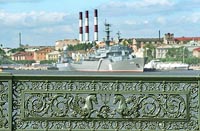 A Maritime Salon will be one of the main events of St. Petersburg's 300th anniversary celebration. It will take place on June 25 – 29, 2003. Delegations from over 70 countries will take part in it.
"St. Petersburg is a unique city where it is a must to have a maritime salon", stated to "Rosbalt" correspondent the chief of the department of fare and exhibition activities of the Committee for Economic Development, Industrial Policy and Trade of the city Administration Anatoly Kotov. In St. Petersburg are concentrated military naval base, port, shipyards, military colleges and construction bureaus. A. Kotov also stated that there are a few maritime salons in the world, they are held in France, UK, USA, Singapore and Chile; but the one in St. Petersburg will attract special attention because of the fact that there at the same time will be held exhibition and vessels from all over the world will tow in the city's harbour, on the "Rzhevka" target ground will be held demonstrative shooting-ranges and at the airdrome of Pushkin – an avia-show.
In the maritime salon will take part all the enterprises of St. Petersburg as well as all the scientific research institutes, construction bureaus related to maritime armaments.
A maritime salon is one more page in St. Petersburg's maritime history encircled in the history of Russia.
Event source: rosbalt.ru

Print this news
---
Events archive for 14 October' 2002.
Events archive for October' 2002.
Events archive for 2002 year.