Events
Exhibition in Stroganovsky palace: "Two wars"
July 3, 2003 - July 28, 2003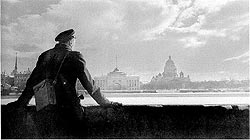 At the exposition there are works of two painters: Soviet painter S. Shimansky and German painter A. Remmer. They are both got trough the Grate Patriotic war but they saw it from different point of view.
In 1942 A. Remmer was on the strange land. He had to photograph the German graves for facilitating future quests. But there were too much graves…Remmer didn't participate in the fights so he survived and was able to keep his photos. They show us Russian countryside in that time, their people who was still laughing and friendly in spite of the war.
In the same time in the North another photographer - S. Shimansky took photos of the operations and fights. But he didn't see only the blood and pain. When he was in the blockaded Leningrad, he was astonished by the greatness of the unsubdued city. There are no corpses and bombings on his photos, but the fences on the flower-beds for growing potatoes before the Kazansky cathedral. Such photos can tell us much more about the blockaded city than the others.
Event source: www.rusmuseum.ru

Print this news
---
Events archive for 03 July' 2003.
Events archive for July' 2003.
Events archive for 2003 year.