Events
Six Masterpieces of Georges Rouault from Musee National d'Art Moderne, Paris
December 19, 2003 - December 18, 2004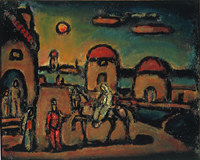 The show focuses on Rouault's unique achievement, his Christian painting, represented by two wonderful compositions The Holy Face (1933) and The Flight to Egypt (c. 1946), alongside his best self-portrait The Apprentice (1925), a grotesque representation of the latest democratic variety of demagogue The Speaker (c. 1908-10), his most tragic canvas reacting to the 2nd World War Homo homini lupus
(1944-48), and the famed Clowns (1908-10).
Of Georges Rouault's four masterpieces owned by the Hermitage, the watercolors Nude with Raised Arm, Les Filles and Spring are rarely displayed because of preservation reasons, while the oil painting Head of Christ, purchased in 1998, is exhibited permanently.
Rouault studied at the Paris School of Fine Arts under Gustave Moreau together with Matisse, Marquet and Manguin, whose Fauvist ranks he however never joined, though his painting was as expressive. In his youth he was stimulated first by old masters and Gustave Moreau, then by Daumier, Degas, Cezanne and Van Gogh. His own style matured by 1905.
The artist's original style and new vision became first noticeable in circus scenes. For Rouault circus was the principal embodiment of his age, the true revelation of his contemporaries' spiritual life. Clowns were the genuine heroes of the artist's world, where they featured as the key images of profound internal drama of human existence behind the dazzling scenes.
The Parade (c. 1907-10) with its brilliant expressive spontaneity is one of the master's best works in the circus series.
The 20th century ushered in a resolute struggle for renewing the language of arts, to which Rouault made his important contribution.
The Speaker is an important political meeting rather than a scene in class.
The best of Rouault's few portraits are his self-portraits, made without the use of mirror and free from any actual agenda, where personal elements are transfigured into typical images. His best-known portrait is significantly called The Apprentice. Rouault always wanted to be one of many, "working man from a working neighborhood", who had nothing to do either with self-humiliation or with an upstart's complacency.
The Holy Face (1933) is one of the most tragic images created by Rouault.
During the war, Rouault was working at one of his gloomiest compositions Homo homini lupus. The title goes back to the Roman playwright Plautus. The phantom of death, the muted cry of horror and protest, which was haunting the artist during the 1st World War, came back again.
The Flight to Egypt is both an evangelical scene and a landscape, where characters are portrayed against the background of nature's sovereign beauty.
Event source: www.hermitage.ru

Print this news
---
Events archive for 19 December' 2003.
Events archive for December' 2003.
Events archive for 2003 year.