Events
Sarah Brightman will present new album "Harem" to her Saint-Petersburg fans
April 23, 2004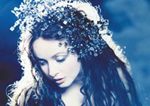 On April 23 Sarah Brightman is presenting her unforgettable show "Harem" in the Ice Palace.
Listening to "Harem", Sarah Brightman's new album, it's hard to believe that multifarious pop diva Sarah Brightman first came to fame as a proponent of musical theater (not counting her early stint with dance-pop group Hot Gossip). After going through a number of stylistic shifts over the years, she has arrived at an unusual point where her sound evokes a strange confluence of Charlotte Church, Enya, and Madonna. Given the "Arabian Nights" sub-theme of the album, you might even throw in a little "Desert Rose"-era Sting as well.
"Harem" veers between ethereal, almost New Age-like moments, operatic flurries, percolating dance beats, and some accessible Eastern-flavored exoticism. Through it all, Brightman's Broadway past occasionally pops up, as on her orchestra-accompanied version of the standard "Stranger in Paradise," which is itself based on a classical theme. In fact, the orchestra pops up throughout the album, playing arrangements by former Killing Joke member Jaz Coleman, who's surely ventured as far afield from his origins by this point as Ms. Brightman.

Print this news
---
Events archive for 23 April' 2004.
Events archive for April' 2004.
Events archive for 2004 year.