Events
Spaced-out band comes to earth
June 24, 2004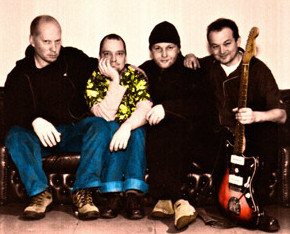 Laika & The Cosmonauts is possibly the best known Finnish surf band in the world, but the band itself seems to find the term misleading, describing its music as \"melodic instrumental rockular music with furious and atmospheric visual vibes\" on its official web site.
According to the band\'s biography, one of its internationally known fans was Al Jourgensen who once invited Laika & The Cosmonauts to support his band, Ministry, on its U.S. tour.
The most recent addition to the list of Laika & The Cosmonauts\' famous fans is film director Quentin Tarantino who reportedly considered the band\'s music for the soundtrack to his 1995 film \"Pulp Fiction.\"
\"I have not only heard of them - I have their records\", Tarantino said to the NOW edition of Finland\'s biggest daily newspaper Helsingin Sanomat, in April.
Hot from its North American tour to promote its new album, \"Local Warming,\" the band will make its first ever visit to St. Petersburg this week.
\"It\'s pretty amazing how well things have been here,\" said drummer Janne Haavisto in a recent telephone interview, speaking from Toronto, Canada. He, however, admits that the road from Helsinki to U.S. rock clubs was not at all smooth.
\"Yes, it\'s kind of hard,\" he said. \"But it doesn\'t really matter where you do it. It\'s hard anywhere. Probably, in St. Petersburg, too, but we\'ll see how that works.\"
Apart from Haavisto, Laika & The Cosmonauts features Mikko Lankinen on guitar, Matti Pitsinki on organ and guitar and Tom Nyman on bass. The band formed in 1987 and released its debut album, \"C\'mon, Do the Laika,\" in 1988.
Surf is originally American music, and Haavisto finds it difficult to say if Laika & The Cosmonauts\' work has any specifically Finnish qualities.
\"It\'s hard to say, but we started, like, from the instrumental surf thing,\" he said. \"But we put a lot of different things into it, all kinds of music that we liked and made a new thing out of it. Maybe some of it is Finnish, but it\'s hard to say.\"
According to Haavisto, the band had a wide range of influences in the beginning.
\"Well, all kinds of stuff, different things - from straight-up punk things to the reggae things, even some disco beat, ska, Latin influences also,\" he said. \"All kinds of stuff, not just one thing.\"
The band\'s Russia-inspired name is a play on the name of Haavisto\'s early band.
\"Actually, with guitar player Mikko [Lankinen] we used to have a band called Pluto & the Astronauts, that was kind of an American name,\" he said.
\"When that ended, we decided to form another band. That was still in that Cold War era, and we just changed sides, I guess .\"
In addition to the name, the band used to wear bushy Leonid Brezhnev-style fake eyebrows on stage.
\"Yes, we did, and even at some point we used military headgear from Russia, but not for long.\"
There is another famous Finnish band, the Leningrad Cowboys, notorious for using similar tricks aimed at deriding the neighboring Soviet Union, but Haavisto claims Laika & The Cosmonauts was the first.
\"We were the first ones, we did it before them,\" he said.
\"Local Warming,\" the band\'s seventh album, will be performed in full in concert, as well as songs from the Laika & The Cosmonauts\' entire career, plus a few covers, according to Haavisto.
\"It\'s more like a journey,\" he said about the album. \"More like going to movies, but without the screen, just songs. But there\'s a lot of different things, from almost like hip-hop beat to straight-up pub rock. You never know what\'s going to happen.\"
Laika & The Cosmonauts at 8 p.m. on Thursday at Red Club.
Links: www.laikaandthecosmonauts.com
Event source: www.times.spb.ru

Print this news
---
Events archive for 24 June' 2004.
Events archive for June' 2004.
Events archive for 2004 year.