Events
Children's drawings on porcelain.
October 15, 2005 - October 24, 2005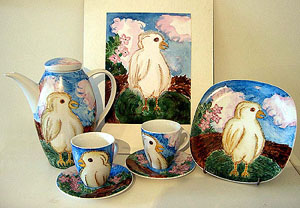 15 October 2005 - 24 October 2005
In 2004 the Committee for Nature Use, Environmental Protection and Ecological Safety of the Government of St Petersburg established a competition called Petersburg EkoKor among the mass media for the best coverage of issues surrounding environmental protection. Thanks to an idea which came from the Journalists' Center of International Cooperation, the main awards to the journalists are porcelain tea services and other articles in porcelain which have been painted by Petersburg artist Lily Bogatko on the basis of drawings made by students of the Fine Arts Studio of the State Hermitage's School Center.
The competition has been held a second time, and once again students attending the Fine Arts Studio of the Hermitage have participated in the drawing competition with an ecological theme. In 2004 the children drew animals living on the territory of Petersburg and the Leningrad Oblast which are listed in the Red Book; in 2005 the subject has been the world of plants and their protector, the goddess Flora.
Before entering their works in the competition, the children drew sketches of animals in the Zoo, heard a lecture about animals listed in the Red Book by a researcher in the Biology Department of St Petersburg University and examined numerous pictures of plants and of Flora made by painters, graphic artists and sculptors from Antiquity to the present day. Out of the large quantity of drawings, the jury chose the works for the exhibition and for the painting on porcelain.
The bright and festive tea services with naive and surprisingly good paintings were awarded to the journalists in a splendid setting. Besides the prizes, children gave the winners their original drawings which had served as the basis for the decoration on porcelain. The only regrettable thing was that these amazing and one-of-a-kind works could not be seen by the broad public. With this in mind, the decision was taken to organize a temporary exhibition of both the source drawings of the children and what the artist transferred to the three-dimension objects after a creative reworking of the children's compositions. In this exhibition the public would also learn who received these unusual awards and why.
The exhibition of the surprising works of a creative alliance between young artists, a well-known master porcelain maker and professional journalists is open for viewing in the Foyer of the Hermitage Theatre.
Event source: hermitagemuseum.org

Print this news
---
Events archive for 15 October' 2005.
Events archive for October' 2005.
Events archive for 2005 year.