Events
THAW
January 25, 2007 - February 21, 2007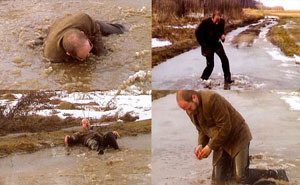 25 January - 21 February 2007
Marble Palace
In 2001 the Marat Guelman Gallery presented the collection of more than seventy paintings, photographs and installations of the modern Russian art to the Russian Museum.
Among the artists represented in the Donation of Marat Guelman collection there are such prominent names as 'new Americans' Komar & Melamid, Grisha Bruskin and Alexander Kosolapov, stars of the Ukrainian art-scene Arsen Savadov and Vasily Tsagolov, Leningraders Olga and Alexander Florensky and Oleg Khvostov, Kazakh Erbol Meldibekov, and the most noticeable Muscovites - Oleg Kulik, AEC Group, tandem of Alexander Vinogradov and Vladimir Dubosarsky and others.
The Thaw, or In the Middle of the Road exhibition is arranged as an intellectual adventure that suggests to follow the history of the Gallery. Quality and significance of the exhibits promise a traveller excellent aesthetic impressions. Permanent authors of the Gallery demonstrate their most recent works.
Event source: rusmuseum.ru

Print this news
---
Events archive for 25 January' 2007.
Events archive for January' 2007.
Events archive for 2007 year.