Events
The Kino Expo International Convention and Trade Fair
September 5, 2007 - September 8, 2007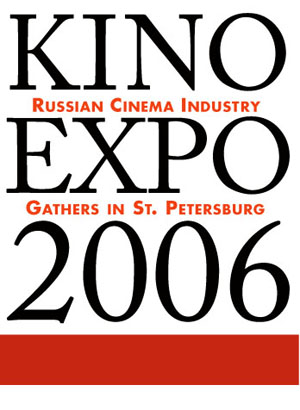 The Kino Expo International Convention and Trade Fair is returning to St. Petersburg this year for the eighth annual event, Sept. 5-8. Co-managing director Dmitri Kazuto spoke exclusively to Film Journal International about this fast-growing show and the excitement that continues to build in the Russian cinema exhibition market.
Why have you moved the show back to St. Petersburg?
Kino Expo originated in St. Petersburg, and was held there in 1999-2002. Basically, the main reason for moving back and forth is the search for better venues. When we outgrew the venues which were available in St. Petersburg, we moved the show to Moscow in 2003, to the country's most prestigious (and most expensive, unfortunately!) venue, the Moscow ExpoCenter. Last year, the new exhibition hall was built at St. Petersburg's LenExpo exhibition center. Besides world-class exhibition space, this new hall has all the infrastructure necessary for shows like Kino Expo. There's a large auditorium and a few smaller meeting rooms, good-looking foyers, and nearby reasonably priced hotels. And last but not least, a beautiful waterfront location at St. Petersburg Harbor. At the moment, the venue is without a doubt the best in the country.
There are also economical and emotional reasons. Moscow now tops the list of the most expensive cities in the world, with hotel prices reaching absurd levels. Travel expenses of our trade-show exhibitors started exceeding their direct participation costs. And finally, there's now total consensus within the local cinema industry, both cinemas and distributors, with regards to moving Kino Expo back to St. Petersburg. In the first place, this move was initiated by the vast majority of convention delegates, coming from all regions of Russia and former USSR countries. Everyone keeps warm and pleasant memories of the previous shows held in St. Petersburg, which has very special, relaxed atmosphere, making it so different from Moscow, with its crazy rhythm of life. I also can't forget to mention St. Pete's attractiveness for sightseeing and as a fun destination for both Russians and foreigners.
I would also like to highlight our continued and very successful cooperation with the Russian International Film Market, which started out in the year 2000 also in St. Petersburg! Now we can't imagine Kino Expo without the autumn session of the quarterly Russian International Film Market. This cooperation effectively combines the two important events, creating one "must-attend" forum for everyone associated with film exhibition and distribution in Russia and CIS.
How do Moscow and St. Petersburg compare as venues for the show?
These days, Kino Expo is firmly established as Russia and CIS's cinema industry showcase. We are free to choose the location, which suits our delegates and exhibitors best. Back in 2003, most of our trade-show exhibitors requested that we move to Moscow. In 2006, St. Petersburg is viewed as the best location even by Muscovites. Moscow's infrastructure hardly keeps up with the city's fantastic growth pace, and that leads to a situation where supply just can't meet demand, resulting in higher prices on virtually everything.
Do you anticipate the show will stay in St. Petersburg or will it alternate with other locations?
We'll see how this show goes, and then we will poll our delegates and exhibitors. But there are a few things beyond our control which affect our decision-making. We need to wait until a suitable venue comes up in Moscow and the situation with hotels gets straightened out, and then we could consider switching the two capitals every second year.
Who are your main sponsors?
The Coca-Cola Company remains our main partner and general sponsor, increasing its support to Kino Expo from year to year. Nevafilm, Kino Expo's friend for eight years now, remains general partner on cinema technologies. I am very pleased to mention that Kino Project Engineering is continuing to increase their support to Kino Expo. This company has become one of our key partners over the last few years. This year, Kino Project Engineering co-hosts D-Cinema Day at Kino Expo, alongside Christie Digital Systems, which is Kino Expo's sponsor for the second consecutive year. Dolby Laboratories, IMAX Corp., DTS, Technika Plus, Chrismart and Viking are Kino Expo's official sponsors this year. Film distribution companies sponsoring Kino Expo are 20th Century Fox Russia, Central Partnership, Karoprokat, Nashe Kino and UIP.
What are the main highlights this year?
I must mention D-Cinema Day, which will be held at Kino Expo for the first time. D-Cinema Day is a series of reports dedicated to d-cinema, alongside demonstrations of d-cinema content. It's a very important event. Another new event at Kino Expo is the conference called "Entertainment Zones and Complexes for Shopping Malls and Cinemas." This conference addresses very important issues of entertainment solutions for both shopping malls, which are the main driving force for the new cinemas appearing in Russia, and cinemas themselves. The co-hosts for the conference are Nevafilm and IMAX Corporation. As for the films, there will be spectacular presentations of new major studio product from 20th Century Fox, Sony Pictures, UIP and Warner Bros. Pictures, as well as new locally produced blockbusters scheduled for release in 2006-2007, and even 2008! Each day there will be special events at St. Petersburg cinemas. The final-night reception will be sponsored by 20th Century Fox Russia.
How many trade show companies do you have and how does that compare to last year?
For the third year in a row, the number of exhibitors remains stable, with about 100 companies. The percentage of foreign companies is about 40%. However, in terms of exhibition space occupied by our exhibitors, there will be about 15% growth, compared to last year.
How many attendees do you anticipate and from how many markets?
We know there will be more attendees than last year. First, this is due to the fact that a few dozen new cinemas have been opened over the year. Moving to St. Petersburg also contributes greatly to increasing attendance. Our main market is Russia. But both Ukraine and Kazakhstan are becoming more important, demonstrating steady growth. Other former USSR countries are also present at Kino Expo, including Belarus, Moldova, Armenia. Georgia. Azerbaijan, Estonia, Latvia, Lithuania and Middle Asian countries.
Who will you be honoring at the show this year?
For the fifth time, Kino Expo and Russian Film Business magazine will host the National Cinema Industry Awards Ceremony.
Mr. Eduard Pichugin, CEO of Kronverk Cinema, is being honored for "Outstanding Contribution to the Development of National Film Exhibition Business." Mr. Pichugin's achievements are truly outstanding. In just a couple of years, he developed from zero the Kronverk Cinema circuit in St. Petersburg. Due to his efforts, St. Petersburg has become a very important cinema market. The success of Kronverk Cinema sparked breakthrough development of the St. Petersburg film exhibition business.
Mr. Michael Schlicht, 20th Century Fox Russia, is the "Distributor of the Year." The successes of The Ninth Platoon, Day Watch, Ice Age 2 and Piter FM were amazing and unsurpassed, bringing Russian film business to new, unprecedented highs.
The filmmaker and actor Mr. Fyodor Bondarchuk, the son of visionary Soviet director Sergey Bondarchuk, is the Kino Expo "Person of the Year in the Film Business." His The Ninth Platoon was a massive creative and box-office success. This critically acclaimed, truly grandiose production set box-office records for both foreign and locally produced films.
How do you see the show growing and developing over the next five years?
Over the next five years I see the show becoming even more internationalized, with current trends continuing to make a stronger impact. Among the main trends I can highlight are major studios getting more involved in Kino Expo, while local production continues making greater contributions to the convention's success. On the technical end, starting this year, d-cinema will become a new reality for the cinema business community.
I can afford to be very optimistic about Kino Expo's prospects. Russian and CIS markets continue demonstrating steady growth, which even exceeds most favorable expectations. The box-office growth during the first half of 2006 was fueled by seemingly endless expansion of multiplex screens, opening up in the shopping malls all over Russia and CIS. These days, new multiplex construction immediately creates more demand for cinemagoing, and film distributors just increase the number of prints. This is very encouraging, but, in fact, it is just the beginning of the revival of Russia as the world's second cinema market after North America, which the Soviet Union was back in the '80s.
Event source: filmjournal.com

Print this news
---
Events archive for 05 September' 2007.
Events archive for September' 2007.
Events archive for 2007 year.