Kazan Cathedral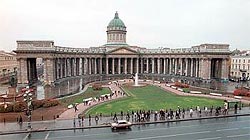 The Kazan Cathedral is outstanding example of the early 19th-century Russian architecture, erected on the site of a small stone church to hold the ancient icon of Our Lady of Kazan.
The Kazan Cathedral encircles a small square with a double row of beautiful columns – an impressive colonnade. It took 10 years to construct this church (architect Voronikhin). Kazan Cathedral was meant to be a Russian version of Basilica of St. Peter's in Rome and the main church of Russia.
After the War of 1812 (during which Napoleon was defeated) the church became a monument to the Russian victory. The captured enemy banners were put in the cathedral and the famous Russian field marshal Mikhail Kutuzov, who won the most important campaign of 1812, was buried inside the church.
---

---

Print this document
---
Back to Excursions section