Night City tour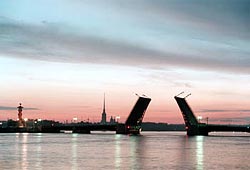 St. Petersburg is famous for its White Nights. During White Nights, when a faint twilight takes the place of night darkness, the streets, squares and embankments acquire a unique charm. Though the period of White Nights is short and comes to an end in July, it doesn't mean that a charm of St. Petersburg 's night disappears. The city dominated by water still offers its guests many possibilities of feeling its beauty. One of these possibilities is offered to you during the excursion " St. Petersburg 's night".
This excursion combines a sightseeing drive to those landmarks of the city which are getting most fascinating when the night is getting on, and a cruise along the rivers and canals of St. Petersburg . Those choosing a river cruise have a unique chance of seeing the most romantic places of the city. A trip on board a cosy boat reveals some hidden secrets of the city and doesn't leave anybody indifferent to its charm.
This excursion doesn't repeat the excursion "Imperial Capital" but reveals some other attractions of St. Petersburg from another point of view.
---

---

Print this document
---
Back to Excursions section