St. Nicholas Cathedral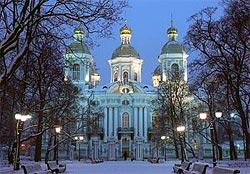 Nikolskiy Naval Cathedral is the masterpiece that combines baroque style with elements of traditional Russian architecture. It was built under project of architect S. Tchevakinskiy on the place of navy parade ground. In was named after the Saint Nicolas Naval – the savior of the seamen.
The cathedral became a kind of memorial in honor of the lost seamen. The bishop of Saint-Petersburg Veniamin consecrated the temple in 1762.
The empress Ekaterina while being on the ceremony ordered to call it a cathedral. In a cathedral at the highest presence the prayers on the occasion of sea victories usually took part. After the war between Russia and Japan (1904-1905) 2 memorial decks with the names of the lost sailors were established there, and in the year of 1989 the deck in the memory of 42 sailors, lost after the crash of "Komsomolets" submarine. In the garden, which is situated around the temple the granite obelisk with the eagle sculpture on the top also was established. It's the monument in honor of the heroes in of Russian-Japanese war.
The cathedral's interior is richly decorated. It showed in the iconostasis and the upper part of the church decorated with carved garlands of flowers and leaves. The cathedral stands on the axis of the highway and at the end of the street's perspective. It's one of the most amazing places in Saint-Petersburg.
The beautiful belfry of the cathedral reflects in the motionless water of the Kryukov channel. Here two channels (Kryukov and Griboedov) join the Fontanka River. Standing near the belfry you can see 8 beautiful bridges that create a great symphony combining water and architecture.
---

---

Print this document
---
Back to Excursions section