Rivers and canals of Saint-Petersburg
(shipping season is from Apr 19 till Sep 30)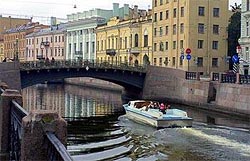 A new perspective on the city can be gained from water-level and the boat trips visit some areas of the city that might not be reached on ground. There are trips with interesting route in the historical part of the city. From the very outset the city was built on water, on numerous islands in delta of Neva River. The combination of the architecture and water in St. Petersburg, as well as in Venice, has a special charm. Wide full-flowing Neva is conceived as the main prospectus of the city along which majestic palaces, temples, gardens, monuments are stretched.
St. Petersburg was built on the delta of the River Neva and is spread out over numerous islands of varying sizes, frequently prompting the nickname the "City of 101 Islands". Over the centuries numerous bridges were built to connect these islands across the various tributaries of the Neva and the city's many canals (Moika, Fontanka, Kanal Griboyedova, etc.).
During the summer months when the river isn't frozen, the bridges across the Neva open at night to allow ships to pass up and down the river. Bridges open from May to late October according to a special schedule. Make sure you check the schedules and don't get caught on the wrong side of the river after 2 a.m., or you will be stranded on the wrong side of the river until the drawbridges are lowered between approximately 4:30 a.m. and 5 a.m.
---

---

Print this document
---
Back to Excursions section