Standard City Tour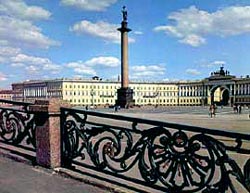 An exciting 3-hour coaching tour of a city, rightfully described as «Northern Venice» or «Pearl of the Baltic».
Drive along the «Great Perspective» world famous today as Nevsky Prospect lined with marble palaces of Russian royalty and aristocracy, with most fashionable boutiques and art salons arranged in old settings of the 18th century, trading rows and arcades, with impressive classical and Renaissance cathedrals and churches as its backdrop, enjoy this 4.5 km long thorough-fare cut through woods and marshes from the Admiralty with the city's symbol (2 ship) on top of its gilded spire to the Monastery of Alexander Nevsky, one of four Russia's Lavras with its magnificent Trinity Cathedral and its cemetery where Dostoevsky, Tchaikovsky and other world celebrities were buried.
Stop over at an excellent picture opportunity with a stunning panorama along the Neva's embankments, by the city's Rostral Columns you will have a view of the 5 buildings of the State Hermitage Museum and the fortress of St. Peter and St. Paul – the cradle of Russia's new capital, the first public museum of the country – the Chamber of Curiosities, founded by Peter the Great and the 4th world's largest domed structures – St. Isaac Cathedral with «The Bronze Horseman» unveiled in Senate Square.
Drive by Summer Garden with the oldest royal stone palace and breathtaking collection of Italian statues and sculpture set in a natural environment of linden trees and ponds with ducks and swans, all surrounded by cast iron fence whose beauty is frequently described as every kilo of cast iron being worth a kilo of gold.
Stop in the Field of Mars with the eternal flame lit in the centre of the monument to victims of revolutions and wars, take pictures of the Resurrection Cathedral on the Spilt Blood at its background, one of the most unusual monuments of Russian Orthodox architecture built on the spot where Alexander II was assassinated.
Drive through the Square of Arts which is a perfect classical ensemble of the city; Stop to enjoy an overwhelming beauty of the third largest square in the world – the Palace Square with the Alexander Column at its centre being the world's biggest free-standing architectural monument, nearly 50 meters high to the top of the cross and over 600 tons in weight, the Alexander Column has become surprisingly harmonious element of the Palace Square together with the Triumphal Arch of the general Staff building on its one side and the Winter Palace complex on another.
Have a 30 min walking tour on the grounds of St. Peter and Paul Fortress with the Cathedral of St. Peter and Paul being a visual monument to Russia's military glory and a sepulcher of the Romano's including the recently reburied holy remains of Nicolas II and his family.
---

---

Print this document
---
Back to Excursions section