Dubki Park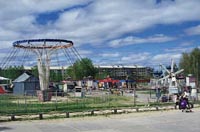 On sandy spit, stretching to the Gulf of Finland, Peter's I country residence " Dubki " was constructed. The garden and a palace were created in 1719-1725. The palace was demolished in 1781, and park "Dubki " with its reservoirs and earthen banks, with sprawling oak groves became a favourite place of rest. The fine view on a beach, on far silhouettes of Saint Petersburg, Kronstadt and forts from here opens.
The park is situated in the Kurortny region of St. Petersburg, in Sestroretsk town. Attractions, boat station, tennis courts and equestrian sport complex. Horse riding with a trainer and without.
Address: Kurortny region, Sestroretsk, Bolshoy Liteyny lane, 37

Nearest Subway: Staraya Derevnia, Ploschad' Lenina

Call: (812) 437-46-55

Fax: (812) 437-37-12

Working time: From 10:00 a.m. till 10:00 p.m
Prices (August,15, 2002): Boats on hire - 80 rbls/hour, 50 rbls. for 30 minutes. Catamarans on hire - 50 rbls/hour. Horses on hire - 300 rbls.


Print this document
---
Back to Attractions section