Puppet Theatre Of Fairy-Tales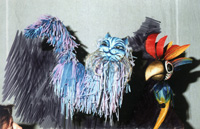 Today it's one of the best city theaters. The participant of many Russian and international festivals, this theater is well-known among St. Petersburg viewers. It always tours: Spain, Italy, Poland, Bulgaria, England, Finland, Scotland, Germany, Iran, Iraq, Kuwait, Egypt... The theater collective: two directors - Russian honoured art worker Igor Ignatiev and Russian honoured art worker Nikolay Borovikov, who create their own original world in each performance; two artists - Russian honoured art worker Nelly Poliakova and Anna Ignatieva, who bring this world into stage reality; and, of course, actors, who are real masters of the puppet theater and can work with many puppets (including the most difficult marionettes).
Address: Moskovsky prospect, 121
Nearest Subway: Moskovskaia
Call: (812) 296-2496, (812) 298-2263 - booking offices
www: http://theatre.freelines.ru/theat_w.htm
Ticket office: Tuesday-Sunday, from 10:30 a.m. till 4:00 p.m. Tickets: 25 rbls.

Print this document
---
Back to Theatres and circuses section