Large Puppet Show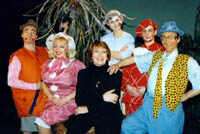 Here you can see modern plays, stagings of Russian and foreign classics, classics of native children's theatre. At present there are 15 children's performances and 7 performances for adults in the repertoire of the theatre.Tours of the theatre are evidence of the international ties of the Large Puppet Show abroad. Its perfomances are known in 18 countries of the world, many Russian cities, cities of the former Union. The Large Puppet Show is the constant participant of cultural all-European programs, has collective membership in the International association of puppeteers.
Address: Nekrasova str., 10
Nearest Subway: Gostinniy dvor, Ploschad' Vosstania, Nevsky prospekt, Chernyshevskaya, Majakovskaya
Call: (812) 273-53-03, (812) 273-66-72- ticket-office
Fax: (812) 272-90-65
Ticket office: daily from 10 a.m. to 7 p.m., dinner-time from 3 to 4 p.m. Tickets: from 8 to 25 rbl.


Print this document
---
Back to Theatres and circuses section