Eating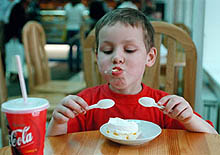 It is best to eat in restaurants in the hotel where you are staying or in other restaurants or cafes of good reputation: here you will find a good selection of dishes and may be confident that the food will be of good quality. The lower the price you are asked to pay for food, the greater the risk that it will be of doubtful quality. Our tip, therefore, is as follows: eat out at up-market restaurants, cafes and bistros, or, alternatively, buy food at the local shops and cook at home.
St. Petersburg is well-supplied with good shops and supermarkets, selling good-quality food that may be purchased in total confidence. Take care, on the other hand, when making purchases from stalls (kiosks) or in the city's markets. Also be cautious when buying strong alcohol. Buying Russia's famous vodka at a low price may prove a very costly mistake. Buy strong alcohol only in up-market shops.
Prices in the majority of St. Petersburg's shops are in rubles, but you will occasionally come across prices in "conventional units" (i.e. dollars). Note that the exchange rate for conventional units used in a particular shop is set by the shop's management and may differ considerably from the current exchange rate on the financial markets. In St. Petersburg there is no shortage of services allowing you to order hot food over the telephone at any time of the day or the night.
Finally, a few words about water. Many foreigners treat the city's tap water with extreme caution. You will find good-quality mineral water for sale in most shops.

Print this document
---
Back to Guides section