Living in St. Petersburg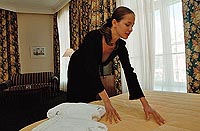 St. Petersburg has hotels of every class. It is best to stay in hotels which have an established reputation. In terms of the security they offer their clients they cannot be faulted. All hotels have a leaflet entitled "Information for Guests" available in several languages. Be sure to read this.
If you are in St. Petersburg for a long period, you may wish to look for an apartment to rent. However, this should be done without hurrying. At St. Petersburg's railway stations and airports you will meet people offering rooms and apartments for rent. These are usually property owners forced by economic circumstances to rent out their accommodation, rather than fraudsters. Yet it is wise to walk on by, all the same, to avoid all chance of becoming the subject of a newspaper article like the one below, which tells what happened to one unfortunate visitor to this city:
At the station he was approached by a young man who offered him an apartment for rent at a low price. The visitor found the offer attractive, went to look at the apartment, inspected the relevant documentation, and paid for several months in advance. A short while later, a woman arrived and requested that he vacate the accommodation. Her son, she said, had rented out their apartment without her consent and without having the right to do so, had taken the money, and disappeared. As a result, the visitor lost both the apartment and his advance payment. Criminal proceedings were initiated on a charge of fraudulence.
The choice of a place to live is a serious matter, and it is best to use the services of a real estate agency or a specialising company with a good reputation. In this way, in return for a small commission payment, you will gain peace of mind and will be confident that all documents are in proper order and that the apartment you have chosen is being rented out legally. You will also have the opportunity to choose from a wide range of apartments varying in terms of location, level of comfort, and price.
When you have moved into the hotel or apartment of your choice, take care not to keep large sums of money at home unless absolutely necessary. If, however, you decide to turn your apartment into a branch of a bank, take steps to make it secure. Fit an alarm system, tell members of your family to exercise care when entering or leaving the apartment, do not open the door to strangers (whoever they may say they are: the police, friends of the owner, employees of public utilities companies, etc.) Such people should carry with them proof of their identities, and you should check by phone with their employers or managers that they are who they claim to be before admitting them to your apartment.
Be on your guard in the event that you receive frequent phone calls which then turn out to be wrong numbers: these may be a means of checking whether there is anyone in your apartment. In this case, acquire a telephone with a number-determining facility. Should you suspicions prove founded, inform the police immediately. Failure to do so will give the potential thieves the opportunity to learn your daily routine of comings and goings. Nevertheless, do not forget basic security measures: close and lock all windows, especially those which are close to fire escapes or balconies. If you lose the keys to your apartment, change the locks immediately.
Try to rent an apartment in a well-kept house and district. The tidier the street, backyard, and staircase are where you live, the more likely it is that you will be secure in that place.
Please see also: Accomodation

Print this document
---
Back to Guides section